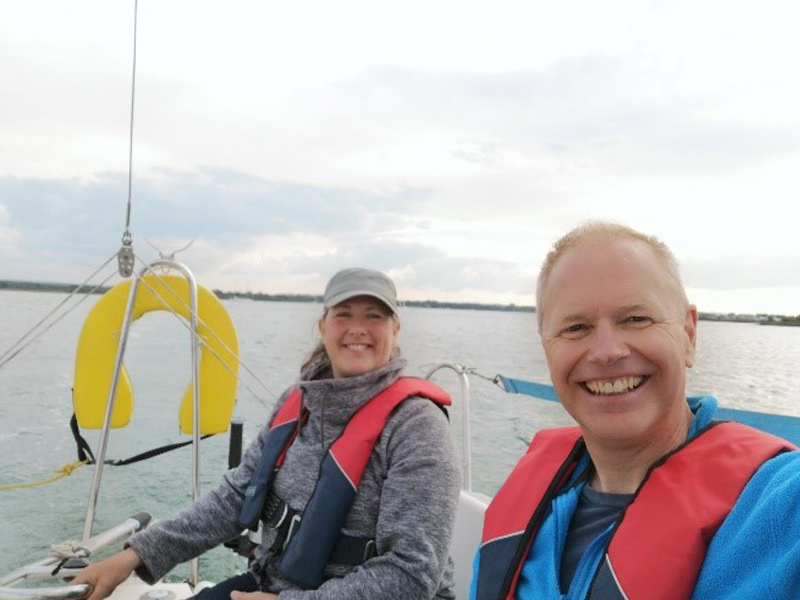 Trailer Sailers, Trailerable Boats & Yachts
Boats on Wheels is owned and run by Hein and Hilary Kuiper. We have been sailing together for over 25 years. Starting in dinghies and yachts on inland waters in The Netherlands, we settled down in Hampshire (UK), to take advantage of one of the world's prime sailing locations, The Solent. We have tried a whole variety of moorings over the years and it always struck us how horrendously expensive it was to sail on the English South Coast. If we wanted to sail further afield and explore new waters, we needed to undertake lengthy sea passages (with bored kids opting to stay down below!) We decided to do something about it, so started trailer sailing. Now we're real converts! We can drop a boat in the water for a day, or a few weeks, at a fraction of the cost of a mooring and we can easily explore sailing areas, much further afield, getting there in no time by road.
We would very much like to create many more trailer boating converts like us. Whether you're looking to get into trailer sailing for the first time, fancy something different or you want to sell a trailer boat quickly and hassle free, then get in touch.
Still not sure? Then have a read of what some of our customers have said about us:
"The HIGHEST of praise for ' Boats on Wheels' !
We have experienced incredible, professional service and advice pre, and after sale. Our Jeanneau Sun 2000 arrived immaculately. Every detail for the transportation was mindfully tended to and comprehensively carried out. Hein's expert knowledge and advice has been invaluable throughout .
Many thanks"
Paul and Rachel D, Northumberland
"Hein provided a first class and highly professional service when I bought a Cornish Shrimper 19 from him. The boat was exactly as advertised and Hein ensured that all the relevant paperwork regarding the full provenance of Black Shrimp was provided. The boat had been very carefully prepared both for the water and to be trailered back to Derbyshire – a wide range of parts had been professionally serviced or where necessary replaced, this was all backed up by the boat surveyor's report that I commissioned prior to purchase. Thank you Hein for your time and care!"
Jon S, Derbyshire