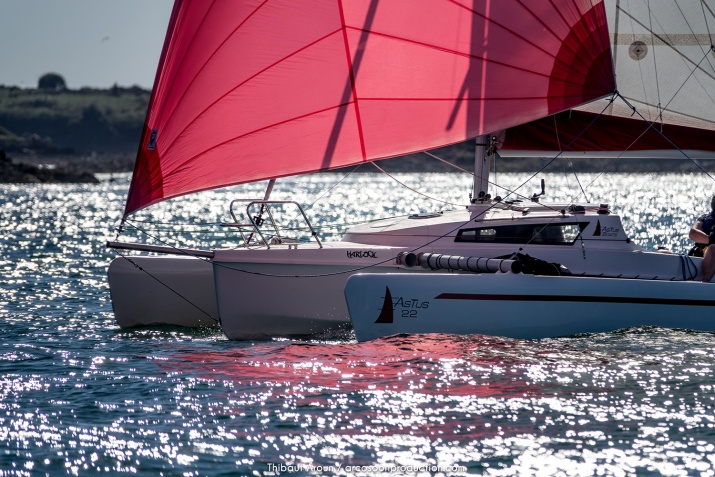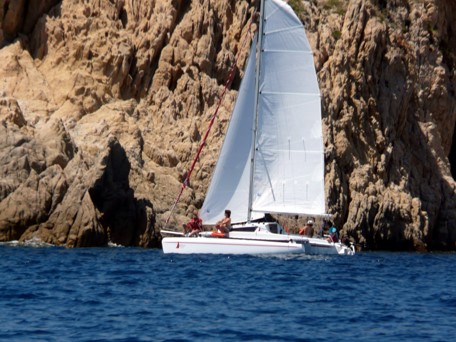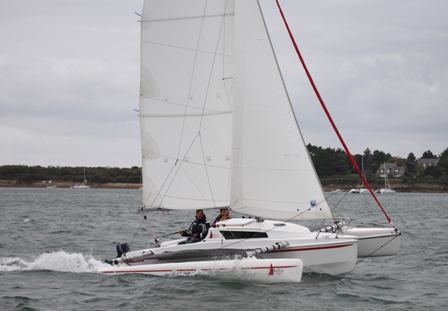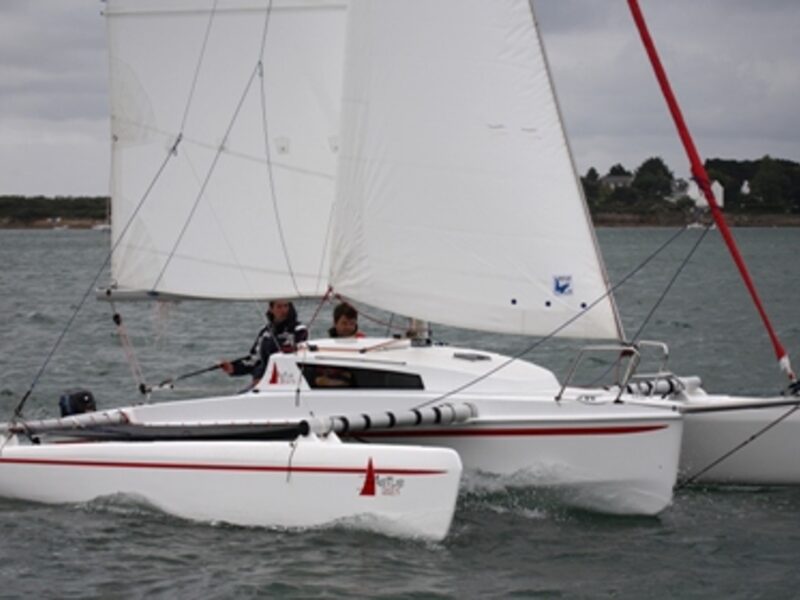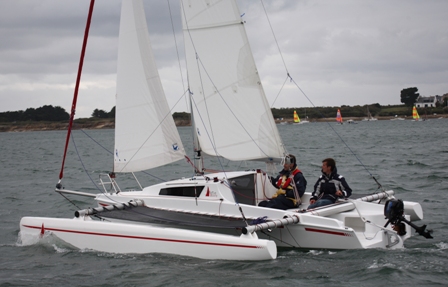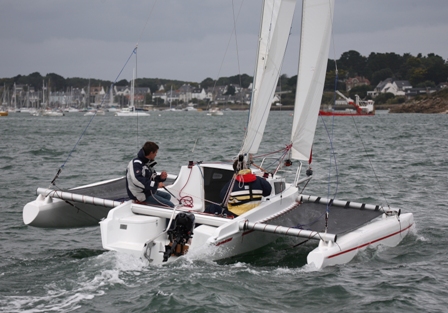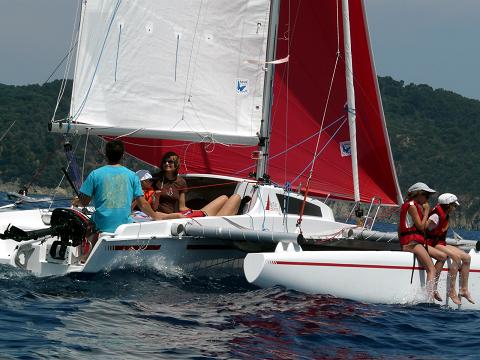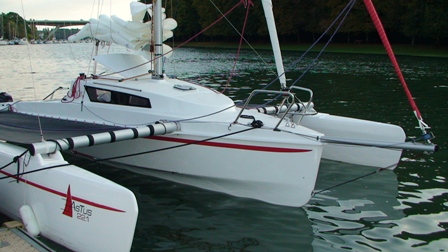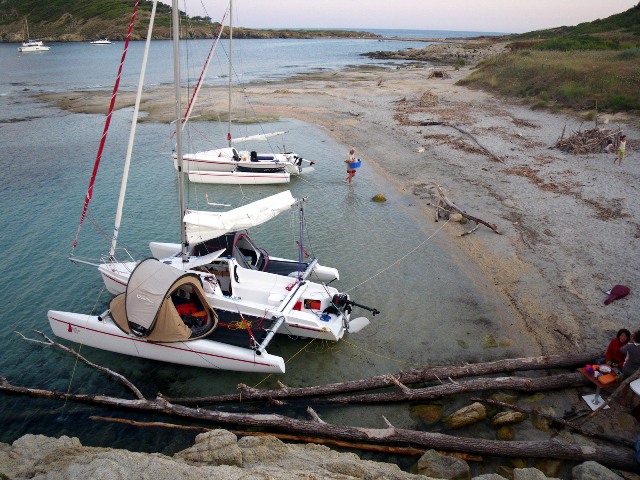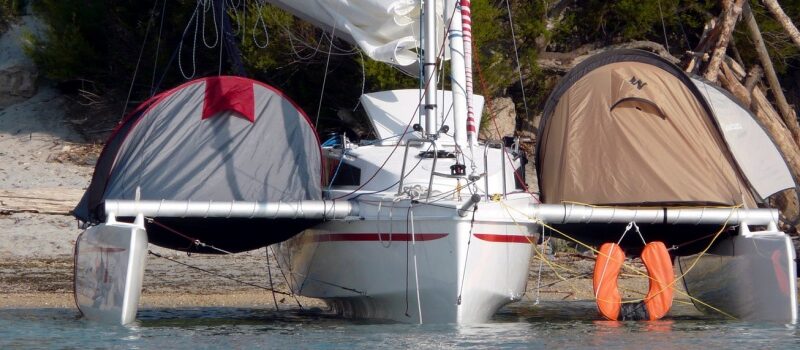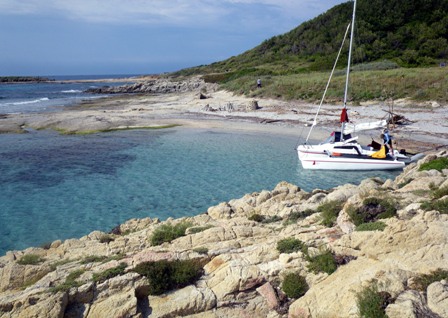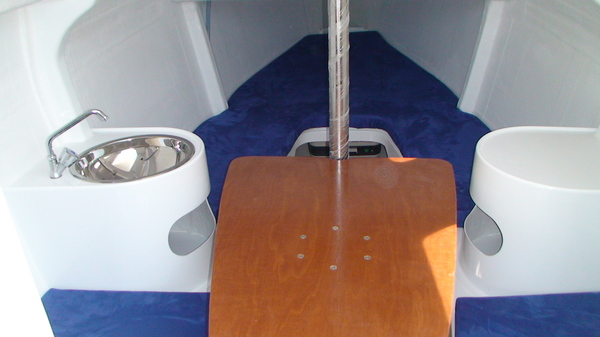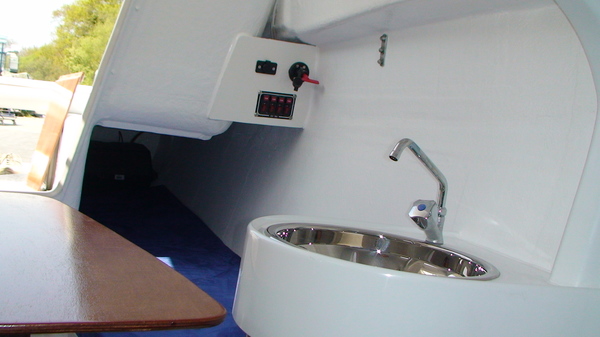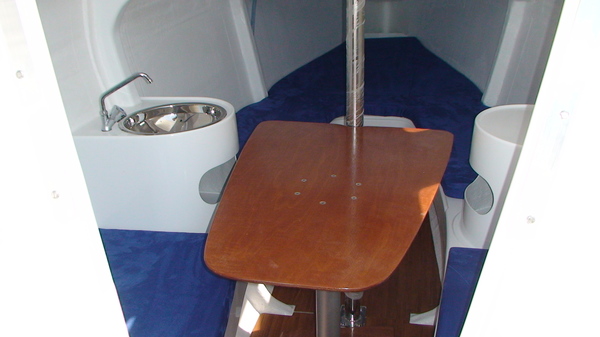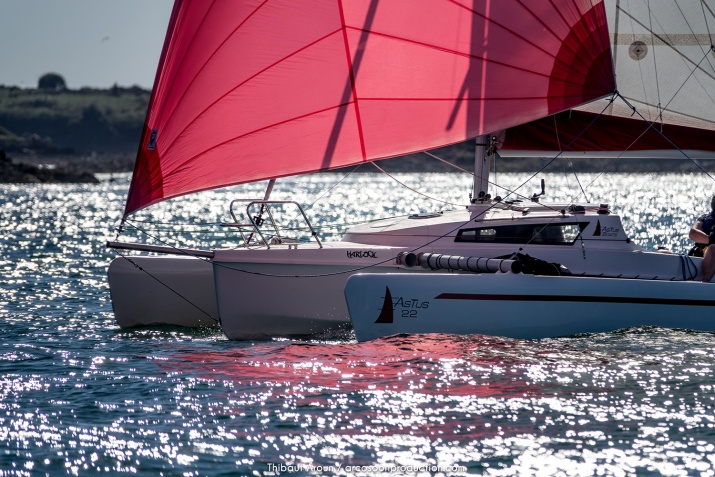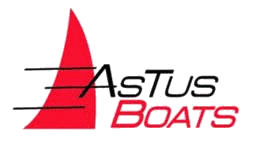 Astus 22
LOA: 7.95m
Draft: 0.3m/1m
Displacement: 655kg
Max. Folded Width: 2.5m
Berths: 4
Price from £43,800 Inc VAT/ex works
Sorry, now discontinued. To be replaced by the brand new Astus 22.5.
The Astus 22, small family cruiser, has enjoyed many years of proven success with dozens of happy owners.  Despite its diminutive size this fast cruiser can access destinations which are out of reach of many larger monohulls. The sleek, narrow hull and float shapes, built using Astus' 'Infusion' process, provide stiff and fast sailing performance.  Yet the 850 litre floats, unfolded to a width of 4.6m, create a safe, stable platform, even for nervous crew members. A large protected cockpit remains dry due to the Astus 22's flared, concave, spray deflecting hull.
Featuring two pivoting centre boards the Astus 22 is easy to 'creek crawl' or beach whilst clearing the interior space for freedom of movement down below. The roomy cabin offers comfortable berths for a crew of 4 – 2 in a v-berth and 2 quarterberths – cabin seating is ample for 5.
In common with other Astus boats the 22 has practical characteristics:
Telescopic floats – this boat shrinks to 2.5m width so it can be towed away without any boat dismantling.
Light displacement, supporting sailing performance whilst making the boat easy to tow, even by smaller cars.
Mast stepping is easy, making short handed rigging possible.
Other features of the Astus 22:
A galley area featuring a sink and room for a stove
A toilet area which can be separated from the rest of the cabin.
An opening deck porthole for cabin ventilation and light.
A wide companionway facilitates free movement on board.
A roomy 3m x 1.8m cockpit
Vast storage under the cockpit sole for bags and supplies.
3.5 m long trampolines offering extra space for larger crews – some owners even use these for camping out!
With both floats folded the Astus 22 meets the legal towing width requirements.
A chain locker with hatch which can be also used to store bowsprit (and keeps water out of the cabin).
Affordable, starting at only £43,800 ex works (all prices are subject to the prevailing exchange rate).
As with all Astus boats the 22 was offered through Boats on Wheels with a wide range of options but the model has now been discontinued.
Coming soon the new Astus 22.5 – ask us to find out more!
Length central hull: 6.65 m
Overall Length: 7.95 m
Folded width: 2.53 m
Unfolded width: 4.60 m
Mainsail area: 19 m²
Genoa area: 9 m²
Mast Height: 8.5m
Draught minimum: 325 mm (central hull)
Draught maximum: 1300 mm
Mast Headroom: 9600 mm (without antenna and lights)
Displacement: 655 kg
Max capacity: 1380 kg (8 crew members)
Manufacturing process: Infusion
Maximum engine power: 9 HP
CE categorisation:

Category C:  5 persons
Category D:  7 persons
Design: Jean-Hubert POMMOIS
Architect: Stéphan VALLET
See more detail on the Astus Boats website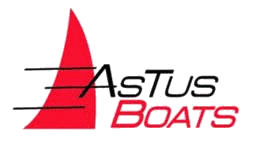 Astus 22
LOA: 7.95m
Draft: 0.3m/1m
Displacement: 655kg
Max. Folded Width: 2.5m
Berths: 4
Price from £43,800 Inc VAT/ex works