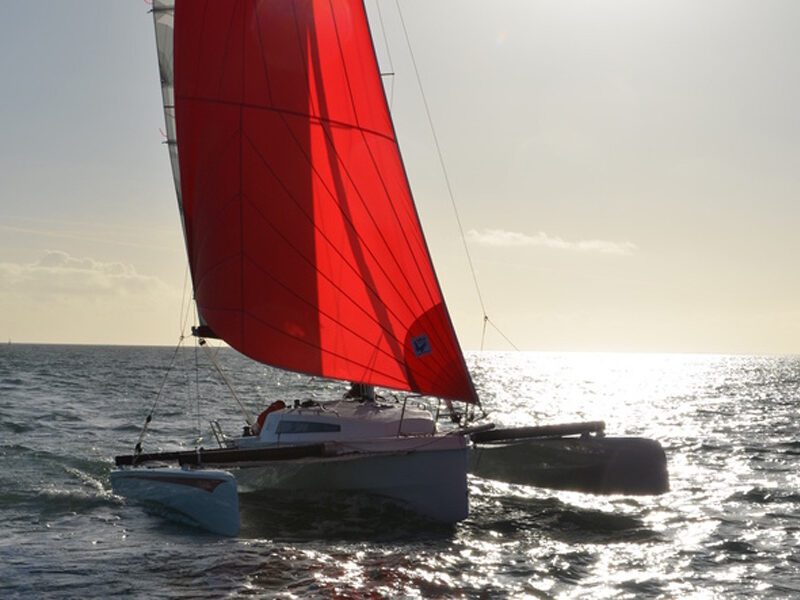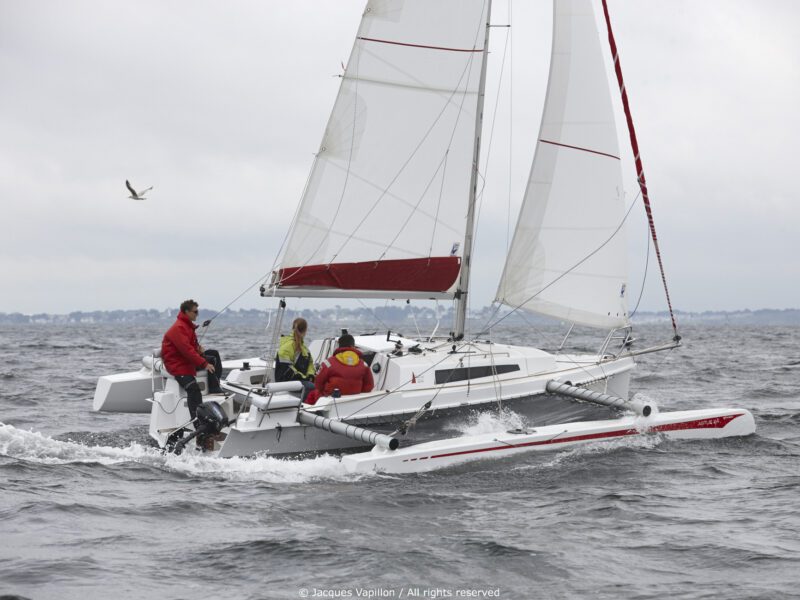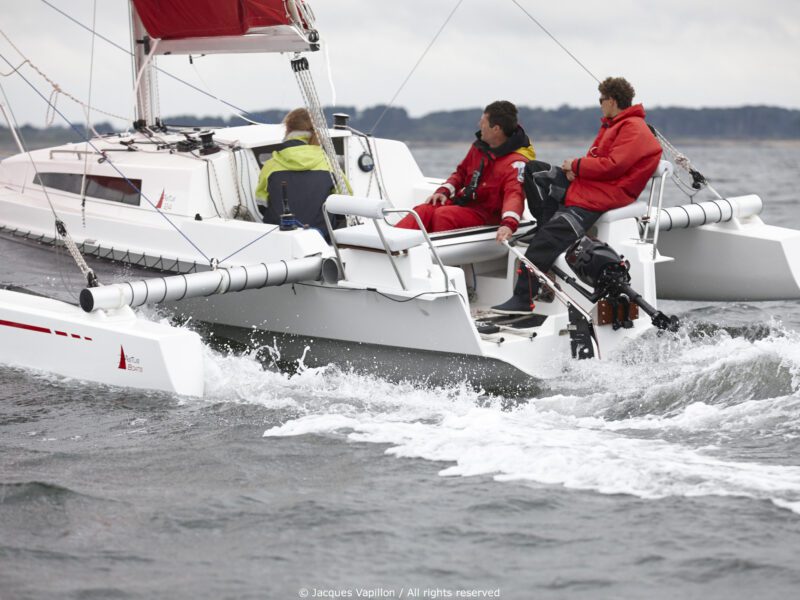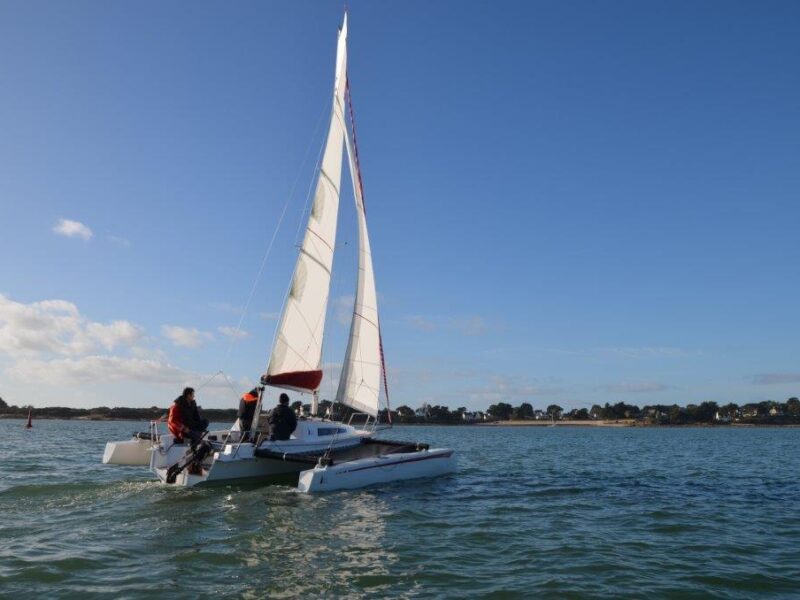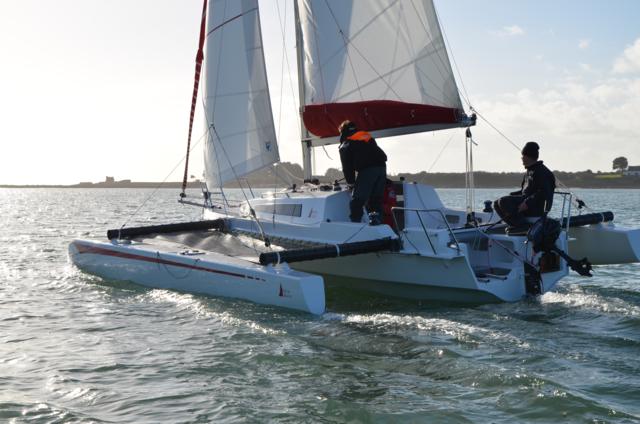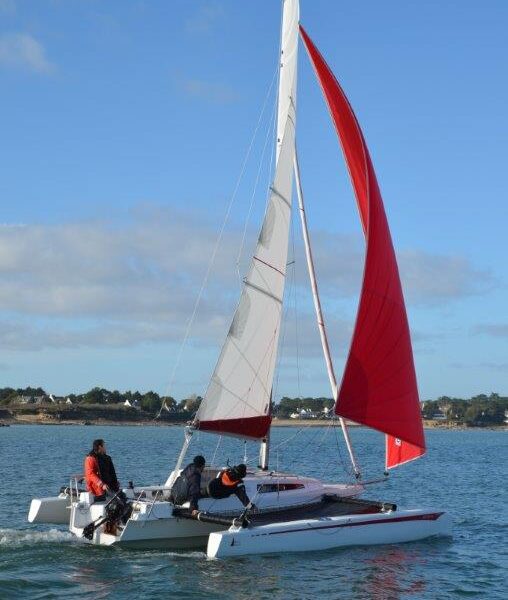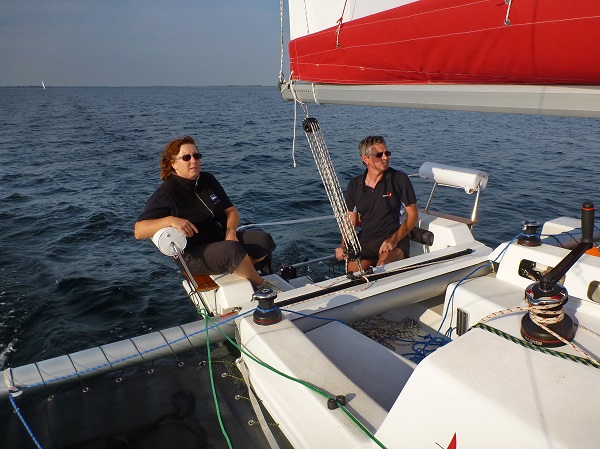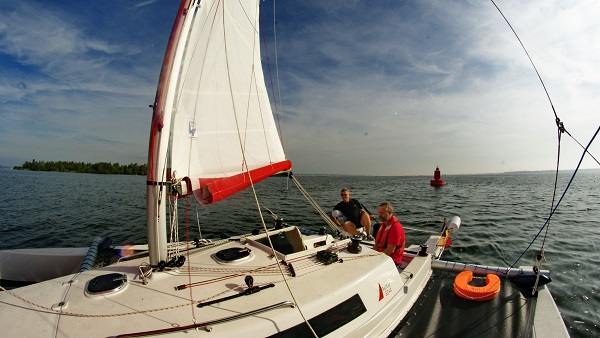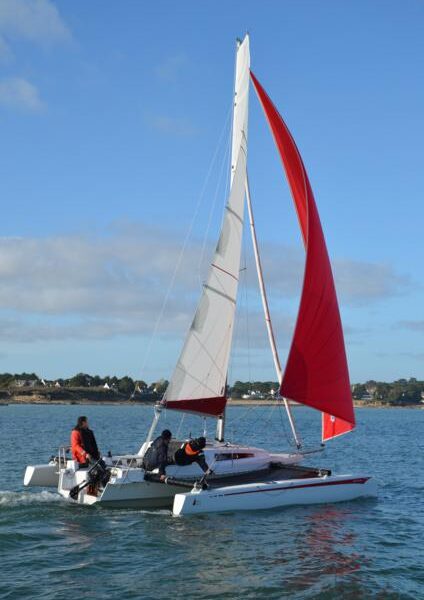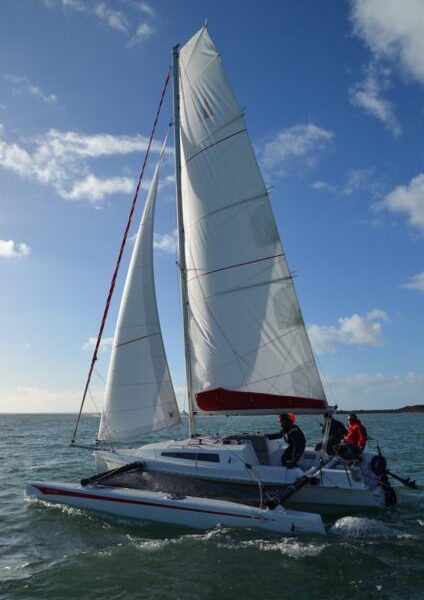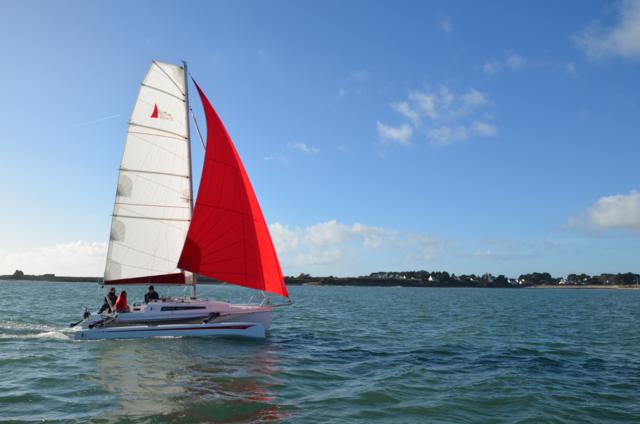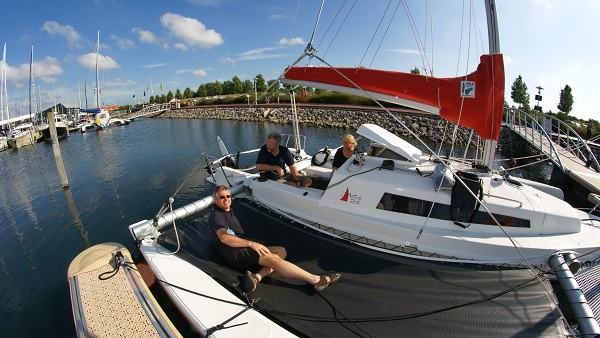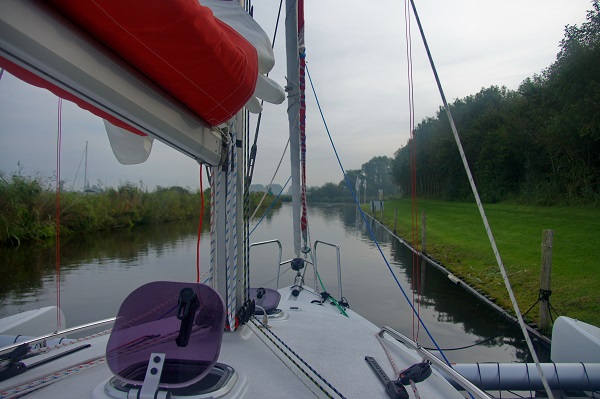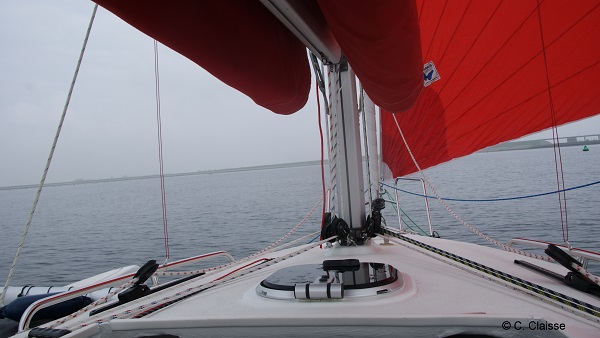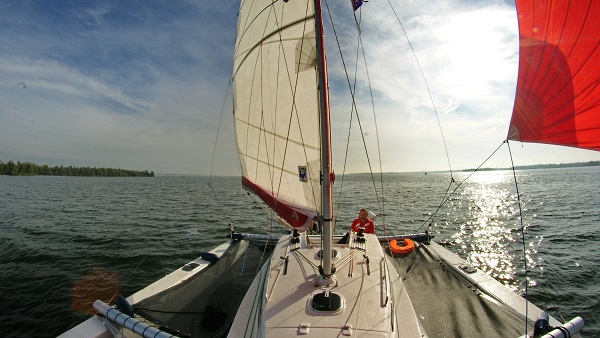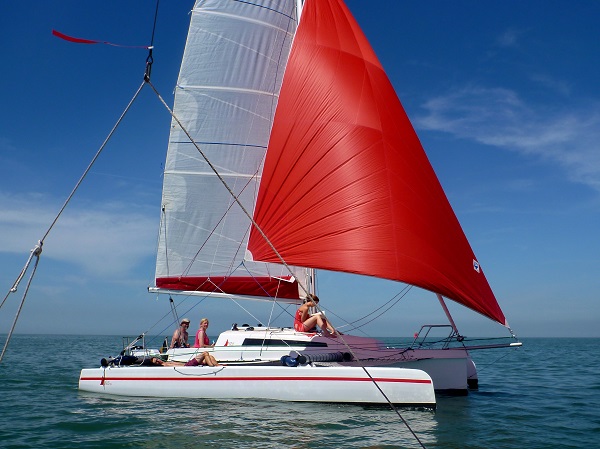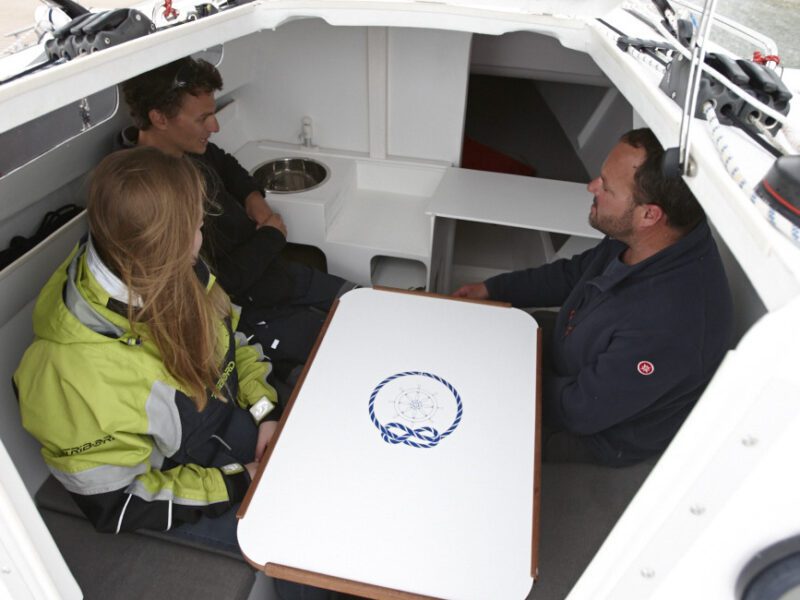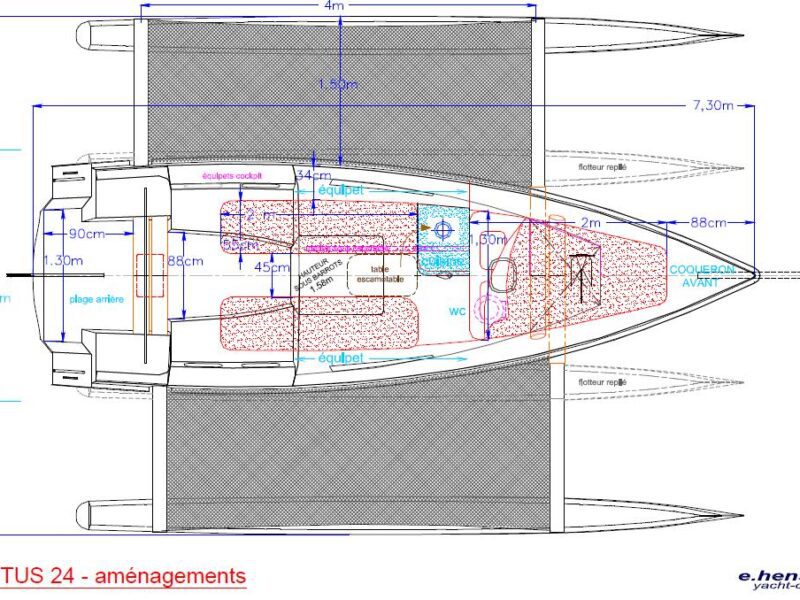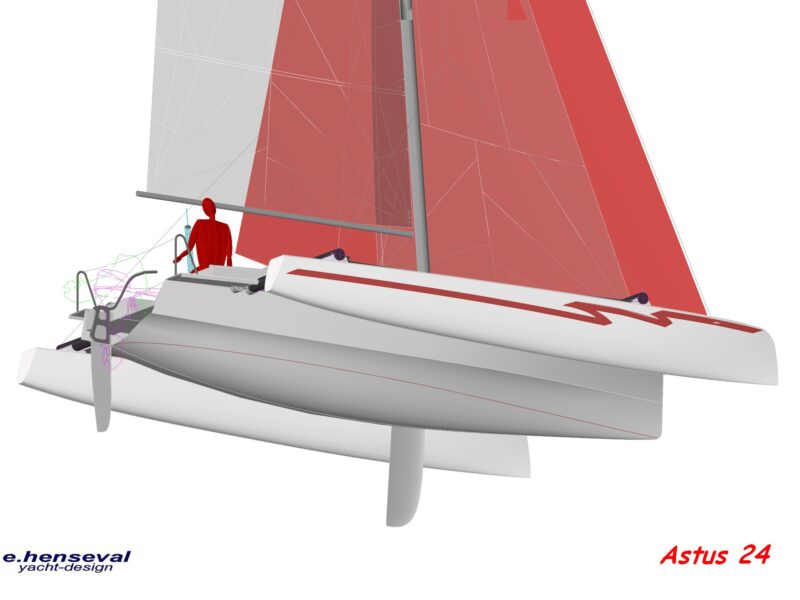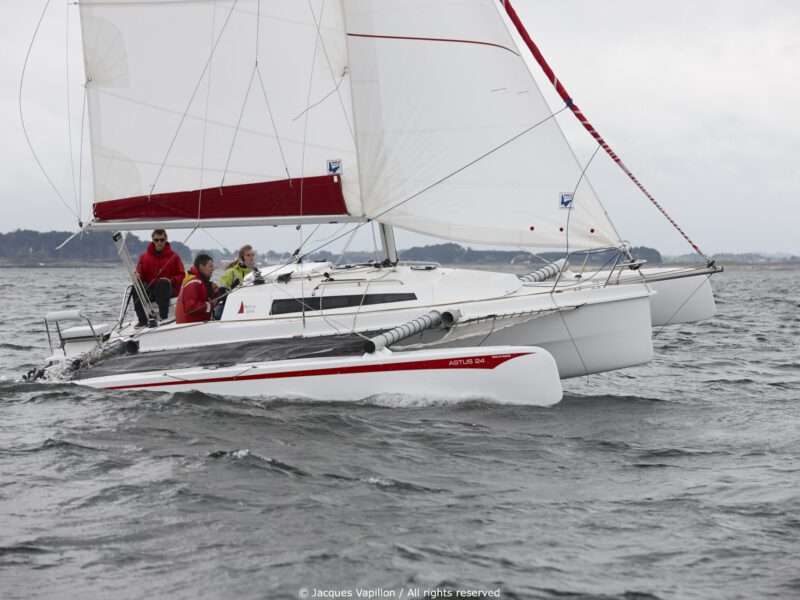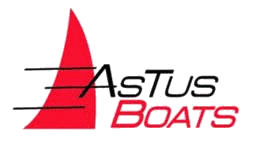 Astus 24
LOA: 7,60m
Draft: 34cm/1.45m
Displacement: 850kg
Max. Folded Width: 2.55m
Mainsail Area: 22m2
Genoa Area: 12.6m2
Gennaker Area: 29m2
Berths: 4
Price from £59,600 Inc VAT/ex works
Sorry, now discontinued. To be replaced by the brand new Astus 22.5.
To meet the growing interest in transportable trimarans, and the desire for larger, more comfortable cruising boats Astus Boats decided to expand its range by offering the ASTUS 24. First unveiled at the Paris Boat Show in 2013 this multihull, 7.40 m long and 5.25 m wide, has a comfortable cockpit, with well-protected seats and a privileged helm position. The large trampolines provide additional space for crew and  avid sunbathers!
Below deck the Astus 24 offers a spacious cabin interior with a galley area, a forward cabin with a toilet, and plenty of storage space.
True to the system of telescopic floats that have proven themselves over the entire range, the ASTUS 24 is still equipped with a 'folding kit' which can be engaged on the water, thereby facilitating easy access to standard marina berths. In order to stay within the maximum permitted towing width of 2.55 m on European roads, the floats are cleverly housed under the central hull when fully retracted. The Astus 24 has a range of options, including a mast stepping kit providing the opportunity for single handed rigging and de-rigging.
Manufactured using Astus' smart 'Infusion' method, the Astus 24 is light at only 850 kg so even modest family cars could be used for towing! Launch and recovery preparation is simple (achievable with a crew of only two), making this an easily transportable cruiser with which you can explore new sailing grounds.
Please contact us for any questions you may have about the replacement for the Astus 24.
*Prices shown are at based on the Euro to Sterling exchange rates as at 31.7.2021
MAIN FEATURES OF ASTUS 24
Overall length: 7.60 m
Central Hull Length 7.40 m
Max unfolded width: 5.25 m
maximum width folded: 2.55 m
Displacement: 850 kg (in 'Infusion' version)
Sail surface area:

Leisure  – Main 22m², Fore 12.6m²
Sport – Main 25.5 m², Fore 14.5 m²
Gennaker area: 29m²
Draft: 34 cm / 1.45 m
Clearing height: 10.76
Interior headroom : 1.70 m
Number of berths: 4
CE categorisation:

Category C: 5 crew
Category D: 7 crew
Architect: YACHT DESIGN – Eric HANSEVAL
Design: JH Pommois
The standard Astus 24 Leisure version comes with:
Hull, deck and floats – infusion moulded
Selden aluminium mast and boom
Leisure mainsail, 2 reefs – Dacron
Leisure foresail, 1 reef – Dacron
Central hull with centre board and pivoting rudder
2 trampolines
Grab handle rails fore and aft
Fixed portholes in tinted plexiglass
Hatchways on pivots
Engine mount
White gelcoat – leisure graphics (red stripe)
Harken winch with jammers
2 deck portholes
Ask us about the wide range of cruising, rigging and sail handling options available for the Astus 24.
See more about the Astus 24 on the Astus Boats website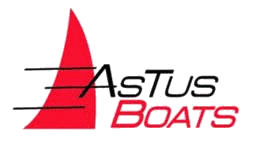 Astus 24
LOA: 7,60m
Draft: 34cm/1.45m
Displacement: 850kg
Max. Folded Width: 2.55m
Mainsail Area: 22m2
Genoa Area: 12.6m2
Gennaker Area: 29m2
Berths: 4
Price from £59,600 Inc VAT/ex works