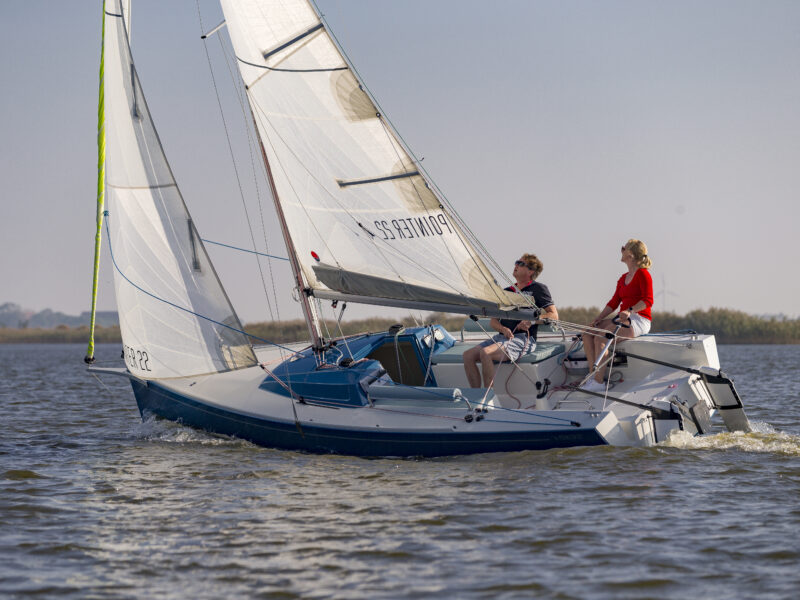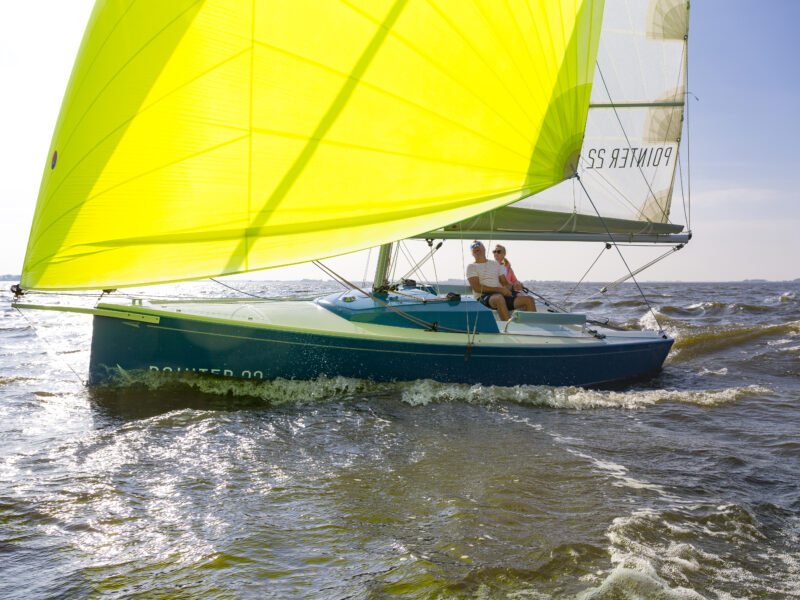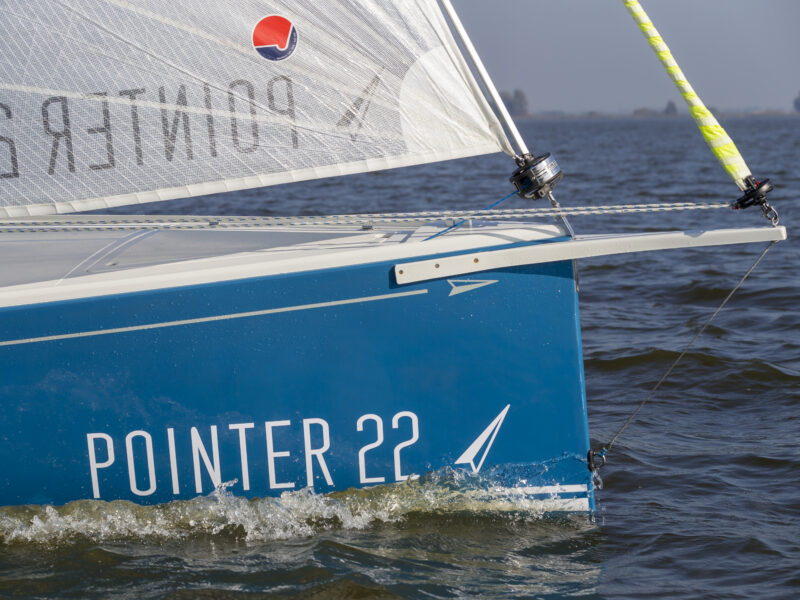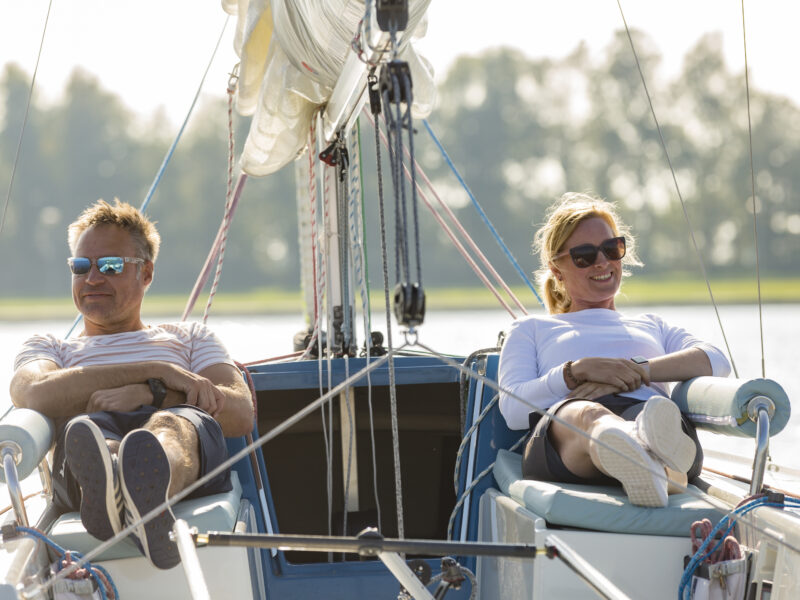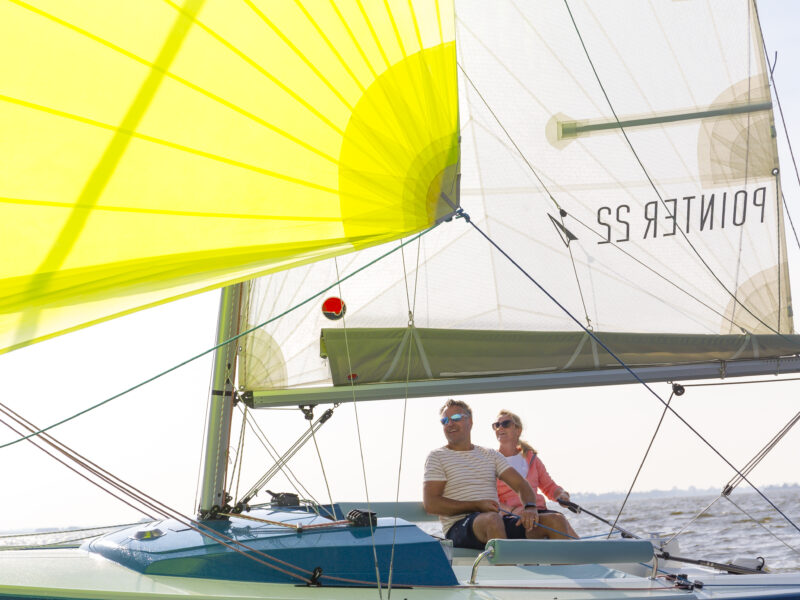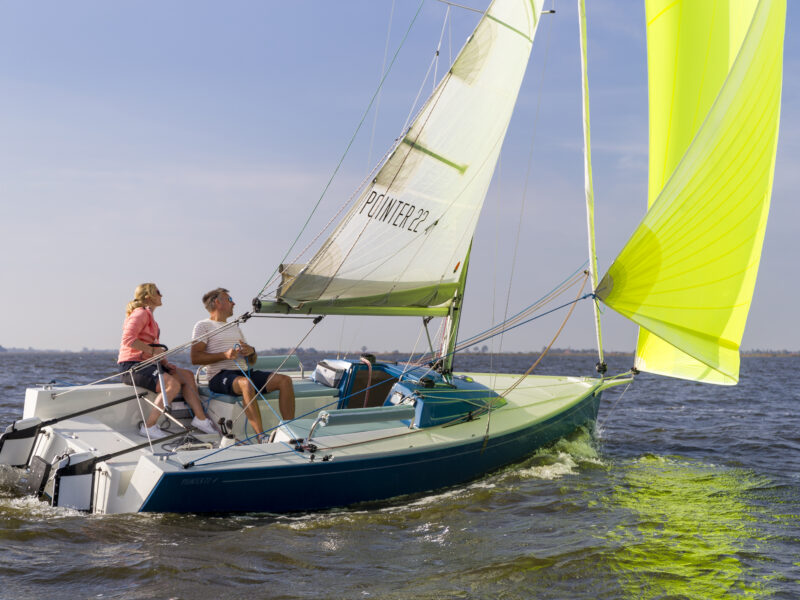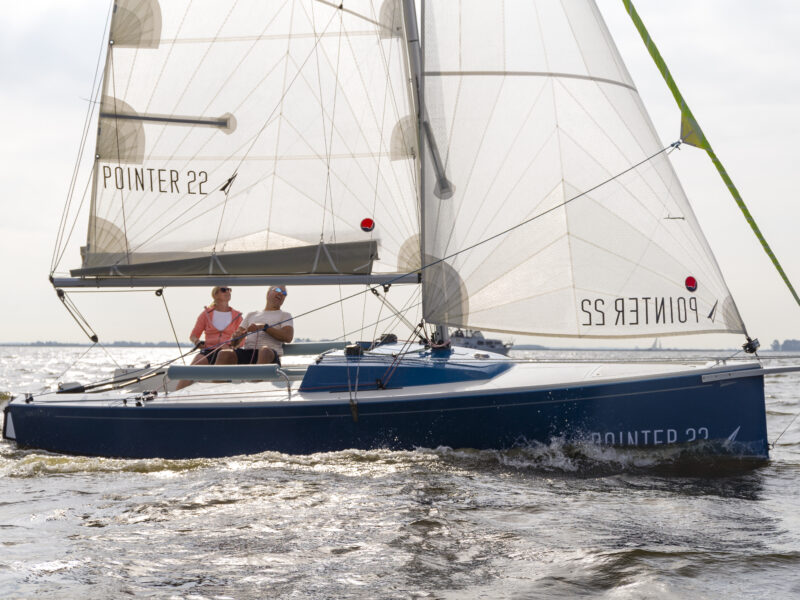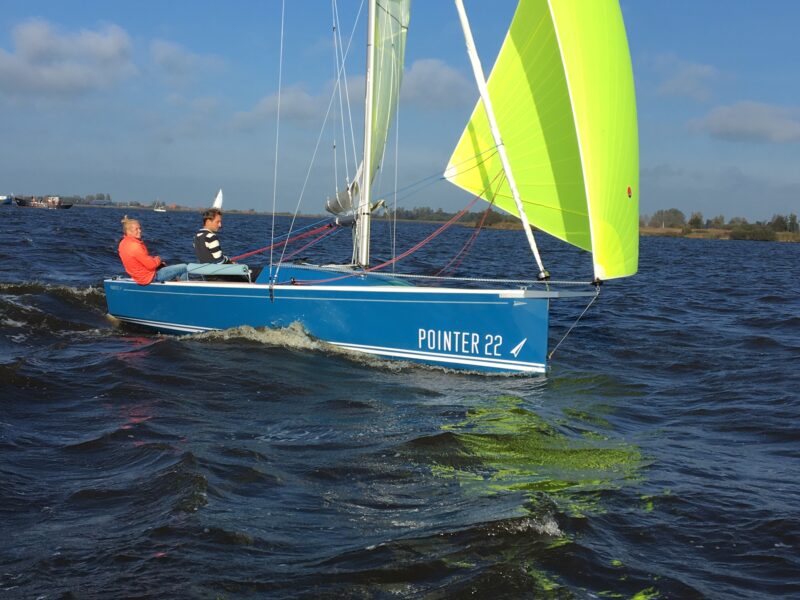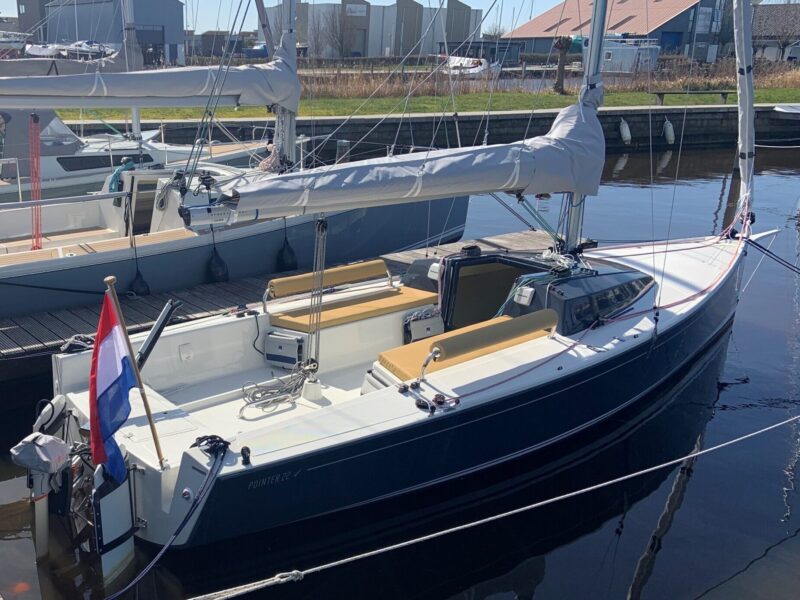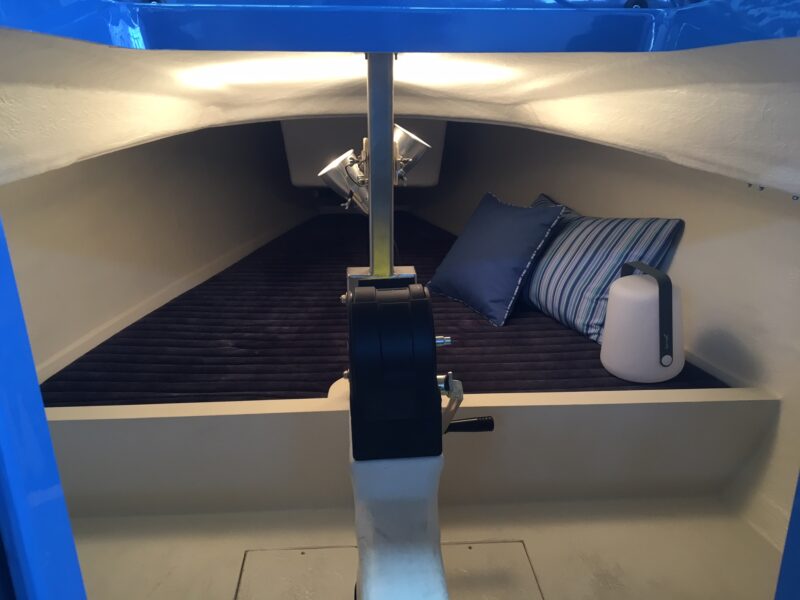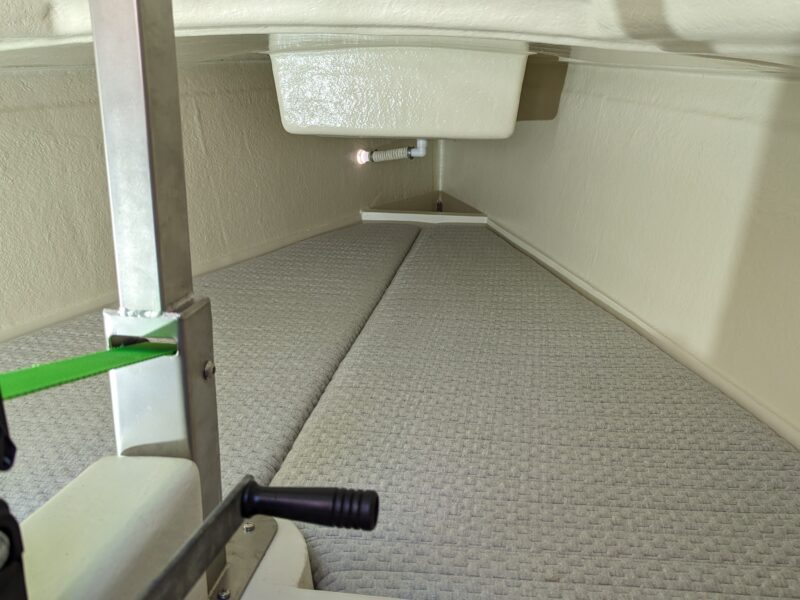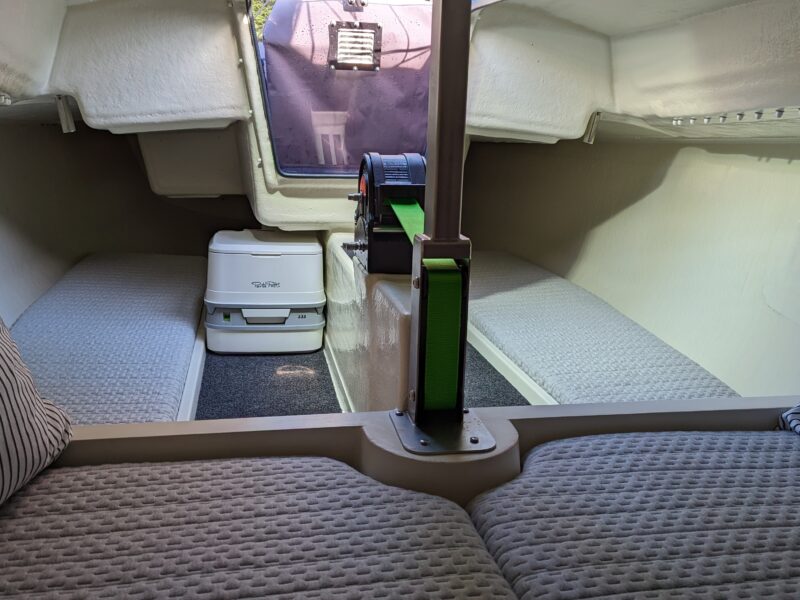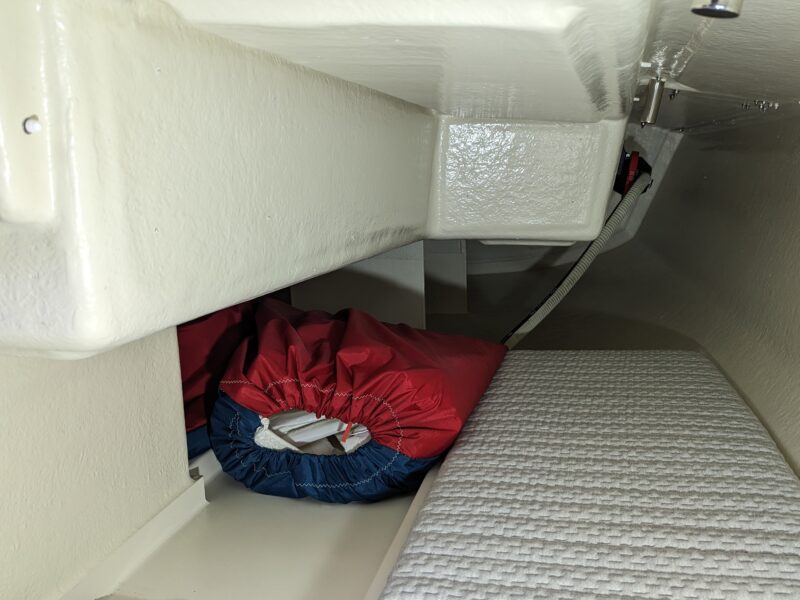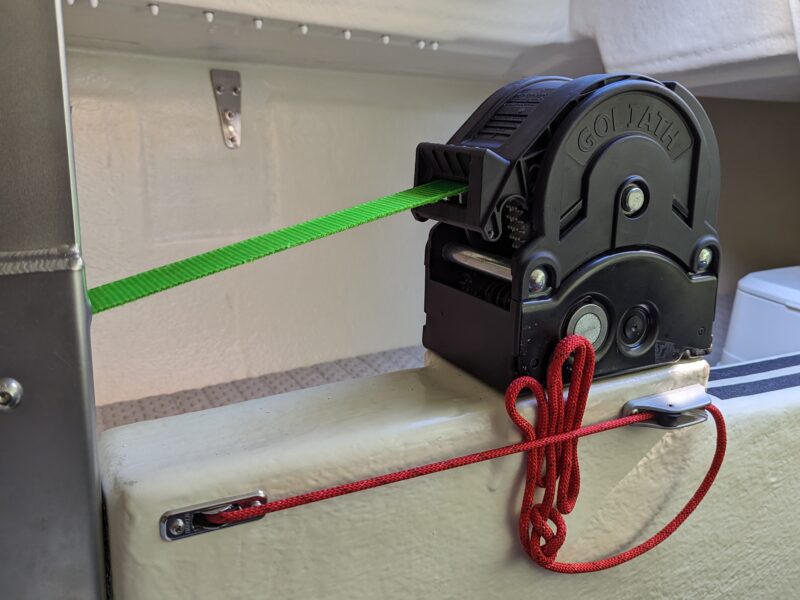 Pointer 22
LOA: 6.5m
Beam: 2.2m
Draft: 0.3-1.1m
Displacement: 750kg
Upwind Sail Area: 23m2
Mainsail Area: 14m2
Genoa Area: 9m2
Gennaker Area: 28m2
Berths: 2-4
Price from £43,000*
HERALDED IN EUROPE, NOW IN THE UK, THE POINTER 22!
Built in The Netherlands by the renowned  Jachtwerf Heeg BV, the POINTER 22 follows a long line of sleek Dutch keelboat designs, spanning many decades. The POINTER 22 is a contemporary  daysailer, come weekender, ideal for lakes and estuaries and the odd trip on inshore coastal waters.  The stylish lines are sure to catch the eye, whilst on-the-water performance will delight real sailing enthusiasts. Already heralded by the European yachting press, this innovative yacht is now available in the UK.
GO ANYWHERE APPEAL
The Dutch know a thing or two about sailing in shallow waters and the POINTER 22 doesn't disappoint. This little yacht draws only 1.1m with the balasted keel down and, thanks to the twin rudders, it retains plenty of grip even when conditions get gnarly. Yet, floating in only 30cm of water with the lift keel and rudders up, this small yacht is ideal for creek crawling as well as trailering to your favourite cruising destinations. Weighing in at 750kg the POINTER 22 can be towed behind a modest family car.
REAL FEEL 
— EXCELLENT SAILING PERFORMANCE AND MODERN SAIL PLAN
The narrow hull design creates an elegant, yet spacious sailing boat. Two long cockpit benches with their tubular backrest cushions provide outstanding comfort for a crew of  up to 6,  whilst a clever cockpit layout ensures that all control lines are easily within reach, making for an optimum sailing experience.  In fact, the entire sail plan can be operated from the helm, so the boat is equally suitable for single-handed sailing. Even under white sails this pocket yacht accelerates quickly to the 6kt mark and beyond. Further off-wind sail options can add an even more addreneline fuelled experience.
SOMETHING FOR THE WEEKEND?
This daysailer hides a well kept secret. Below deck, through an easy-access companionway entrance, there is a compact cabin with crouching headroom, boasting a double v-berth, with plenty of room for storage, or two more berths, under the cockpit benches.  Options like a fridge and a toilet make camping style weekending a real possibility on this little yacht.
COME AND TRY OUT THE POINTER 22
At Boats on Wheels we are delighted to introduce the innovative POINTER22 to the UK. We expect to have a demonstrator by the Summer of 2023. So, if you would like to sample the delights of this unique little yacht then get in touch with us to arrange a viewing or a trial sail.
*All Sterling prices are quoted at the prevailing Euro exchange rate as at 3.5.2023
                      Pointer 22 –  Plans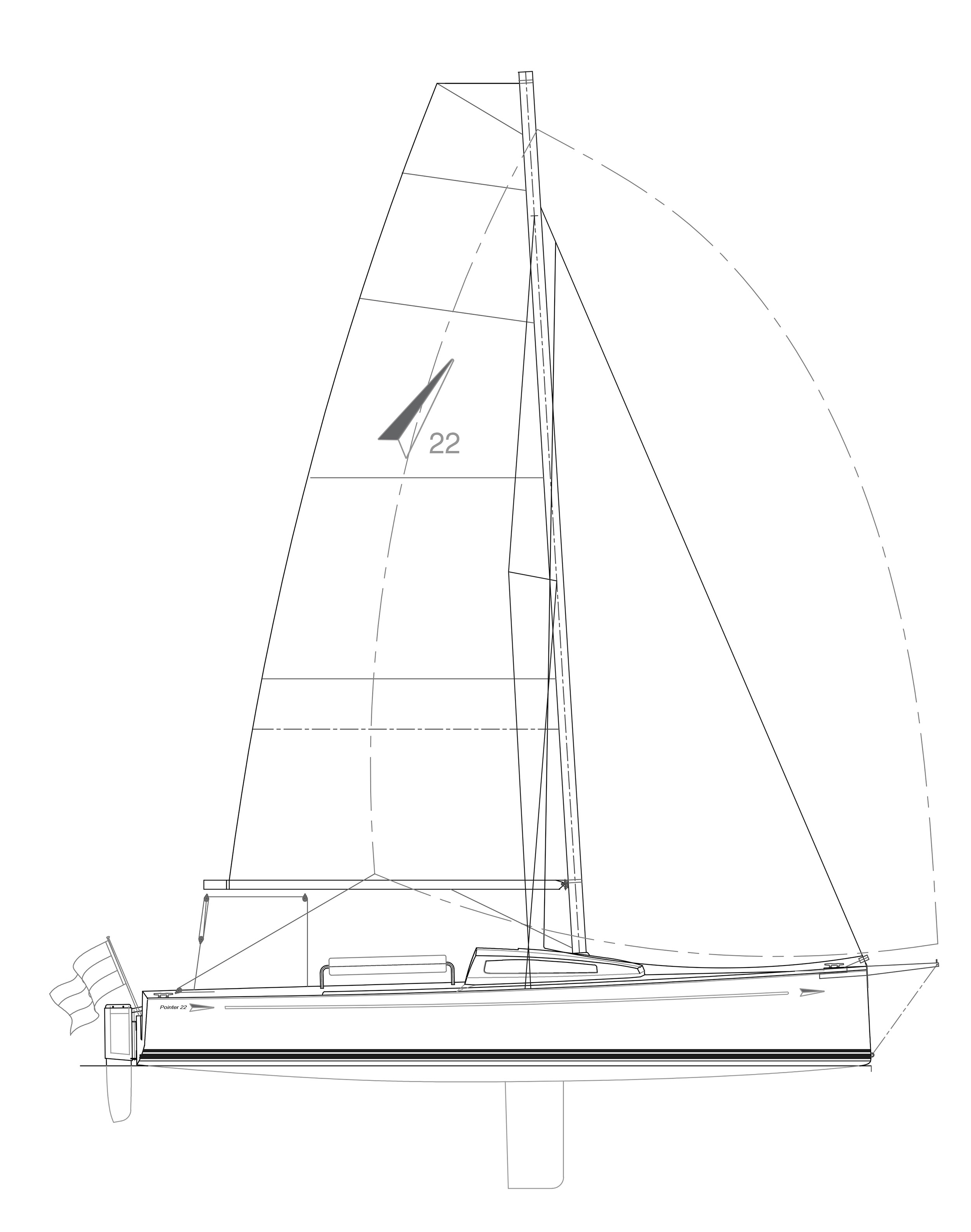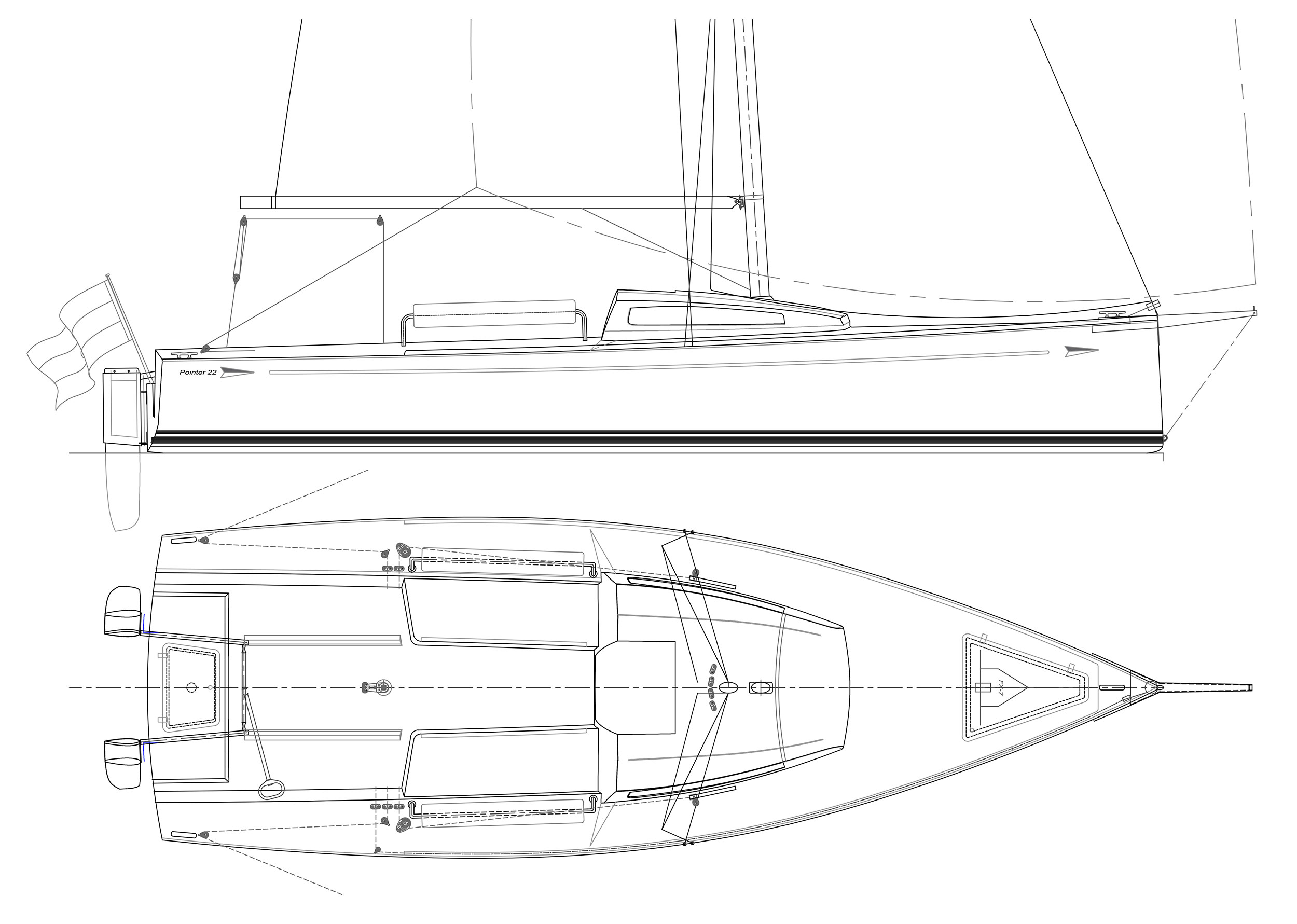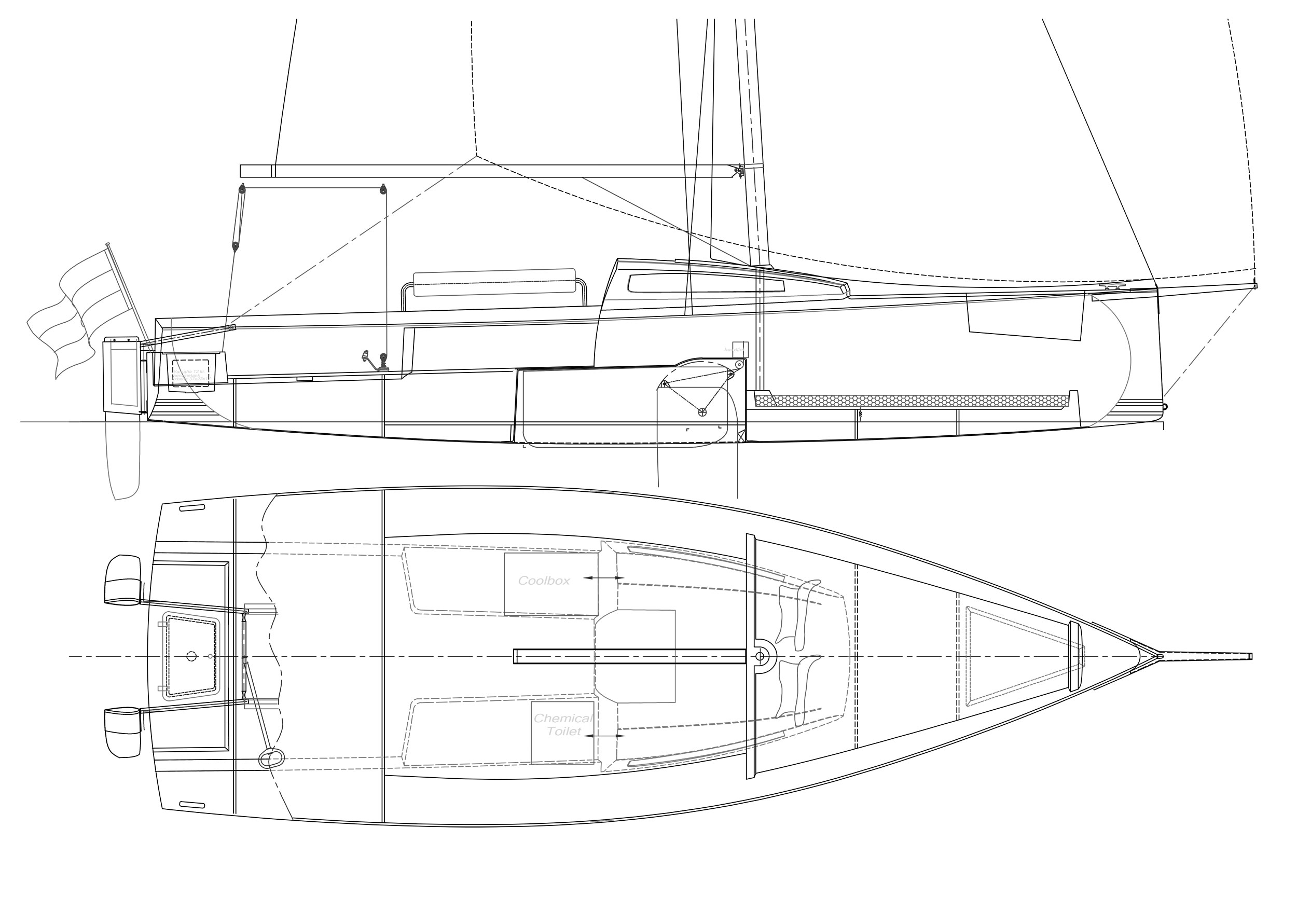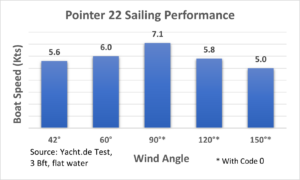 Pointer 22
LOA: 6.5m
Beam: 2.2m
Draft: 0.3-1.1m
Displacement: 750kg
Upwind Sail Area: 23m2
Mainsail Area: 14m2
Genoa Area: 9m2
Gennaker Area: 28m2
Berths: 2-4
Price from £43,000*