Astus 22.5 Award Nomination! Tuesday 6th September 2022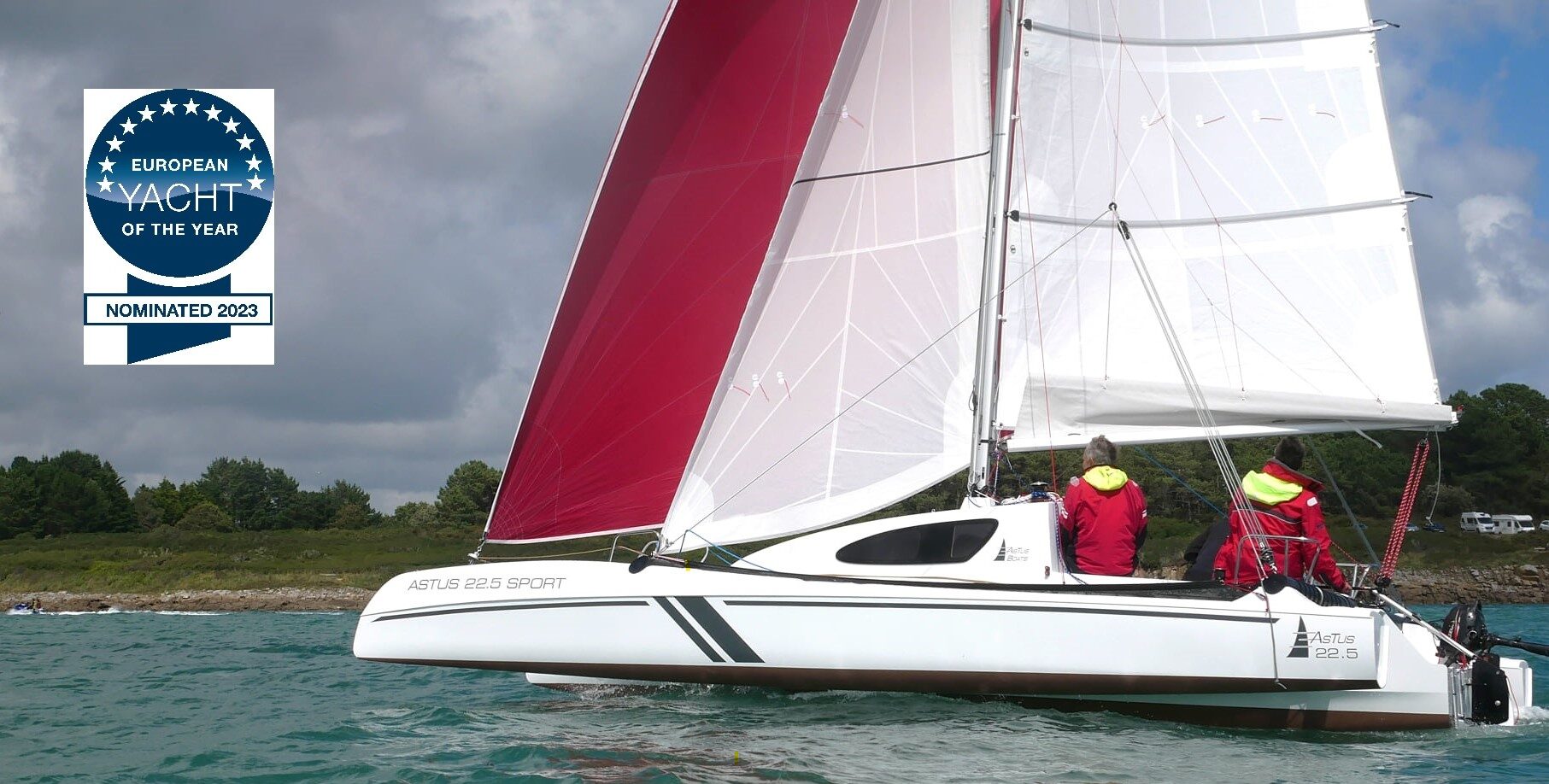 We're delighted to announce that the latest Astus cabin cruiser, the 22.5, has been shortlisted for the prestigious 'European Yacht of the Year' award for 2023.
No wonder. The sleek lines drawn by world renowned naval architects, VPLP, are sure to catch the eye. Longer floats with wave piercing bows ensure that this innovate trimaran powers through the chop. Weighing only 650kg you can expect to speed past monohulls at double digit speeds on a regular basis in this lightweight pocket rocket. Yet, this speed does not come at the expense of stability. Astus have injected each float with bags of buoyancy in all the right places to create a safe sailing platform. The famous Astus telescopic arm mechanism has been further improved so that the boat's width can be easily shrunk from a super wide 4.9m to a marina friendly 3m or a trailer ready 2.5m in seconds.
Down below decks Astus have created a light airy cabin with a v-berth double and two quarter berths to sleep a family of four. A small galley area and lots of storage space under the cockpit and v-berth make on-board living for weekend breaks and holidays a real possibility.  Astus have created plenty of storage room above deck too – 3 handy compartments in the cockpit, 2 in the floats and an anchor locker in the bow. So, this little trimaran offers real cruising capabilities.
Like all Astus boats, the 22.5 can be easily rigged and launched, even single handed. Floating in only a foot of water, recovery onto the break-back trailer is straight forward and achievable without getting car wheels wet. Being so lightweight and compact this innovative boat can be easily towed to faraway destinations. Where could this new Astus take you?
Come and see the Astus 22.5 at the Southampton International Boat Show between 16th – 25th September. We will have our demonstrator in the water at M316. Or contact us for your own private demonstration. We look forward to speaking to you about this innovative trimaran!