We were very excited to become UK dealer for trimaran manufacturer, Astus Boats, recently. Astus have sold hundreds of boats around mainland Europe and further afield and we view trailerable trimarans as an important addition to our range.  Historically, many British sailers didn't really 'get' multihull yachts, viewing them as quirky, expensive and too cumbersome for berthing. Thanks to the onset of clever designs and advanced production techniques multihull manufacturers like Astus are changing perceptions and making trimarans serious candidates as trailer sailers. In this article we will argue the pros and cons of multihulls as trailer sailers compared to monohulls by dispelling some of the myths.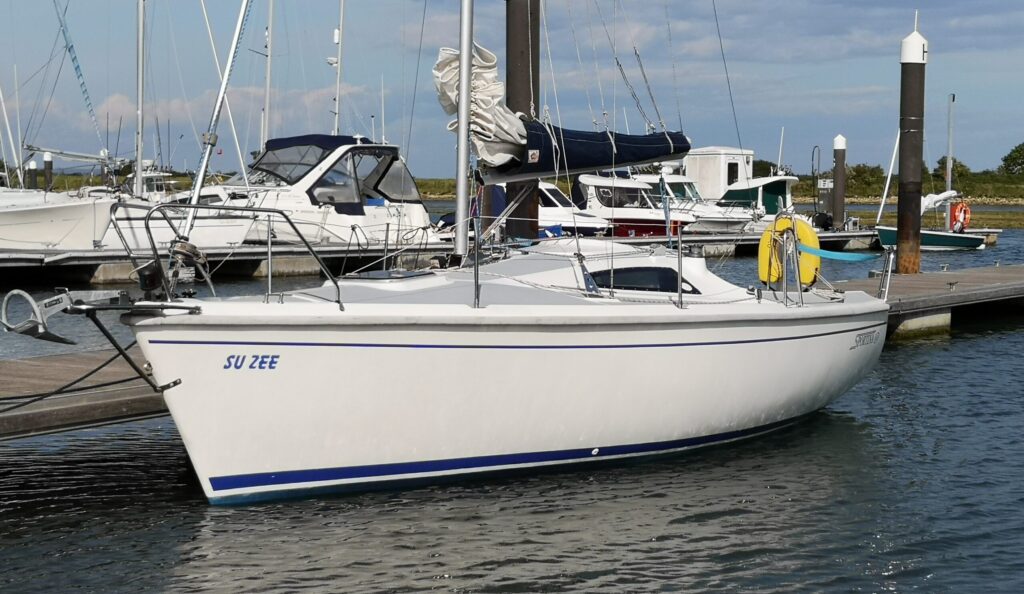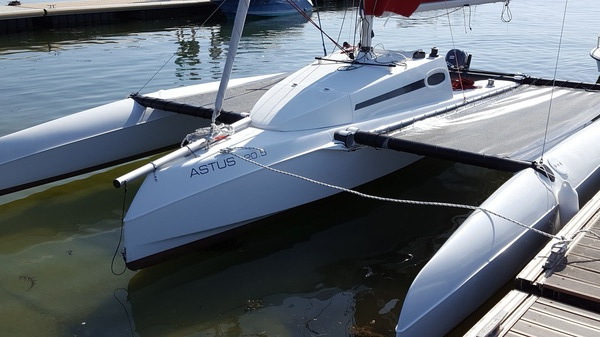 Myth 1: Trimarans are too cumbersome for a trailer
Yes, as the above images show, in their sail ready state most trimarans would be too wide to tow legally, being much wider than their monohull counterparts like the Sportina. Yet, gone are the days of fixed arms and floats. Many of the smaller modern trimarans now have pivoting or telescopic arms which extend and contract. This enables a mid size trailer sailer like the Astus 20.5 to contract from a full sailing beam of 4.5m down to a trailer friendly 2.5m. And it doesn't take much effort - the floats can be pulled in or out and secured by one person in a couple of minutes.
There is more. Trimarans, unlike monohulls, do not need to carry ballast. This provides a clear weight advantage when towing - no big 4x4 required. To enhance performance on the water trimarans are also built to be light yet strong so the lightest production version of the same Astus 20.5 weights in at only 470kg - well under half the weight of a similarly sized monohull. This means that it's trailer doesn't even legally need to have brakes and it can be towed by a small family car!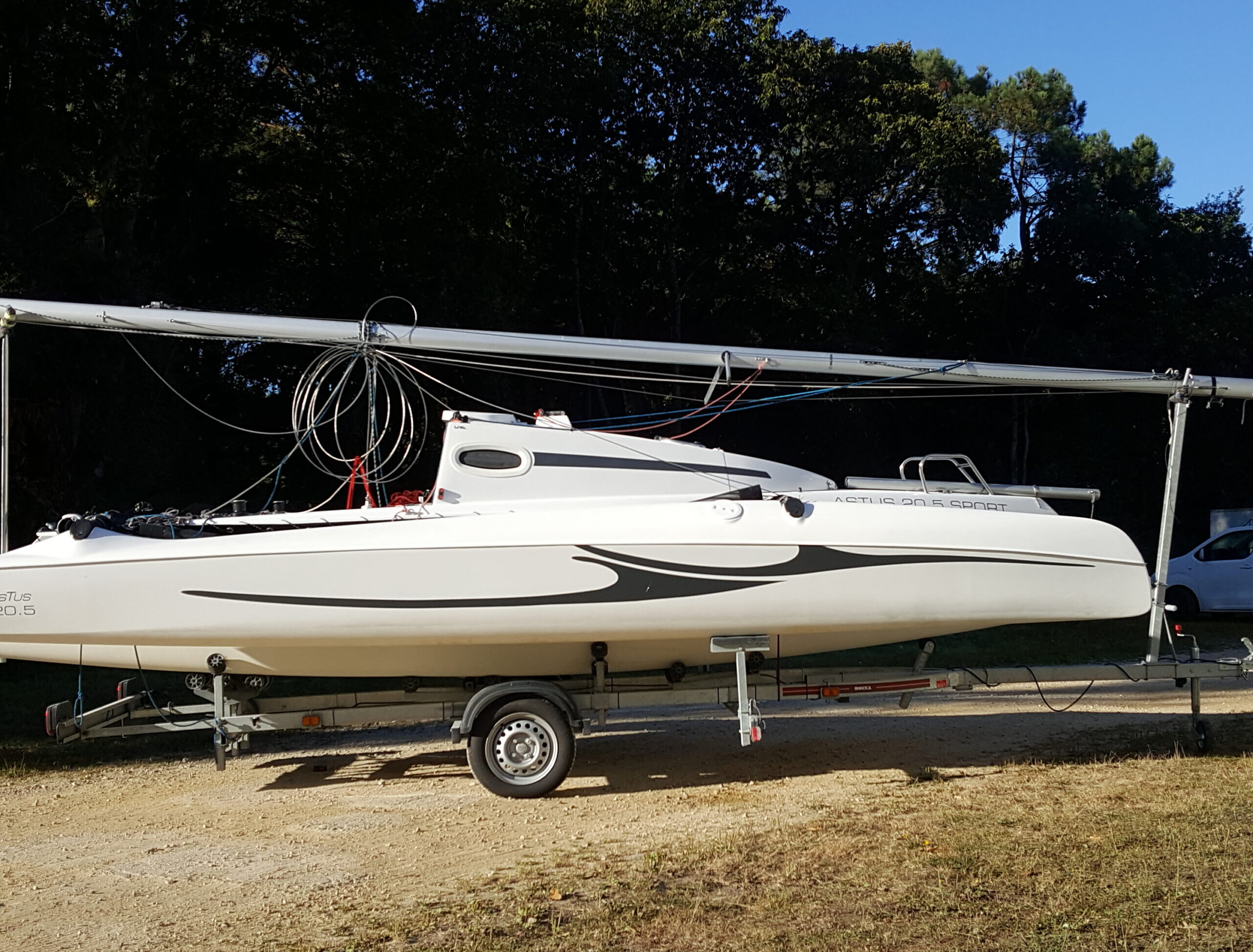 Myth 2: Fast yes, but monohulls are more stable in a blow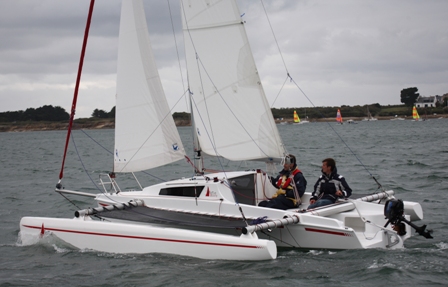 Yes, due to their design, trimarans are typically much faster than their equivalantly sized monohull counterparts, the latest Astus designs are typically twice as fast - so twice the cruising range that can be achieved in a day. One would think that this much speed comes at the risk to stability. Yet, the opposite is actually the case. Due to their floats trimarans sail flatter, with minimal heel compared to monohulls. This makes them much more friendly to nervous or less sure footed sailers even when the wind gets up.
For sure older multihulls were occasionally known to flip or pitchpole in extreme conditions in the same way that a monohull could be knocked flat in a storm. However,  trimaran design has evolved to make this a virtual impossibility for the sensible sailer. The latest Astus boats, created in conjunction with world renowned multihull design architects, VPLP, have bigger floats placed further apart and further forward than historical trimarans. A modestly sized boat like the most recent Astus daysailer, the 16.5, has floats with 500l of volume. The 20.5's floats have 930l - that's a huge amount of buoyancy. To make a crude comparison, this is like a 20' monohull carrying 930kg of ballast!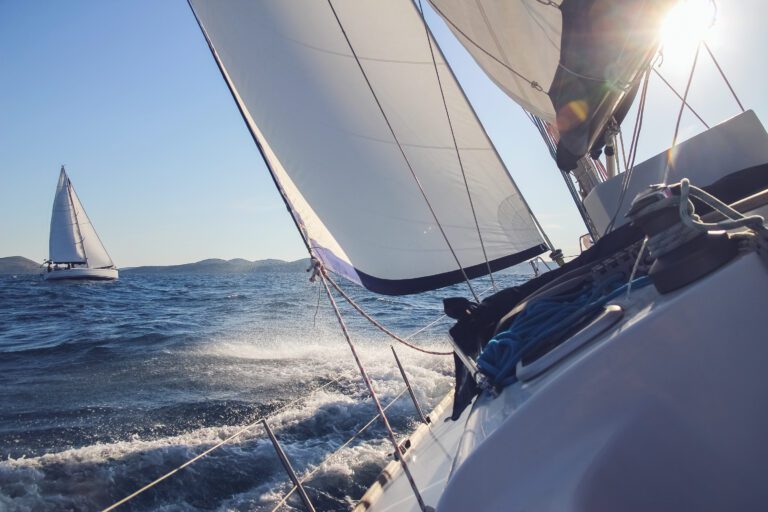 Myth 3: There is more cabin space on a monohull
Err.... This one is actually true. The monohulls invariably win on space below deck.
Trimarans suffer on two counts. 1. The central hull is typically narrower to aid sailing performance. 2. The boats are shallower as they sit on, rather than in, the water. This makes for a more cramped internal space with less headroom compared to a similarly sized monohull, especially if you have to accommodate older kids or friends on board. This means either going up in boat size by a couple or restricting yourself to day sailing.
Astus owners with older kids or friends on board are not deterred by lack of space in the cabin though. They like to make use of the massive space on the trampolines to pitch a tent or two on the comfortable 'mattresses' and they say that kids and young adults love it!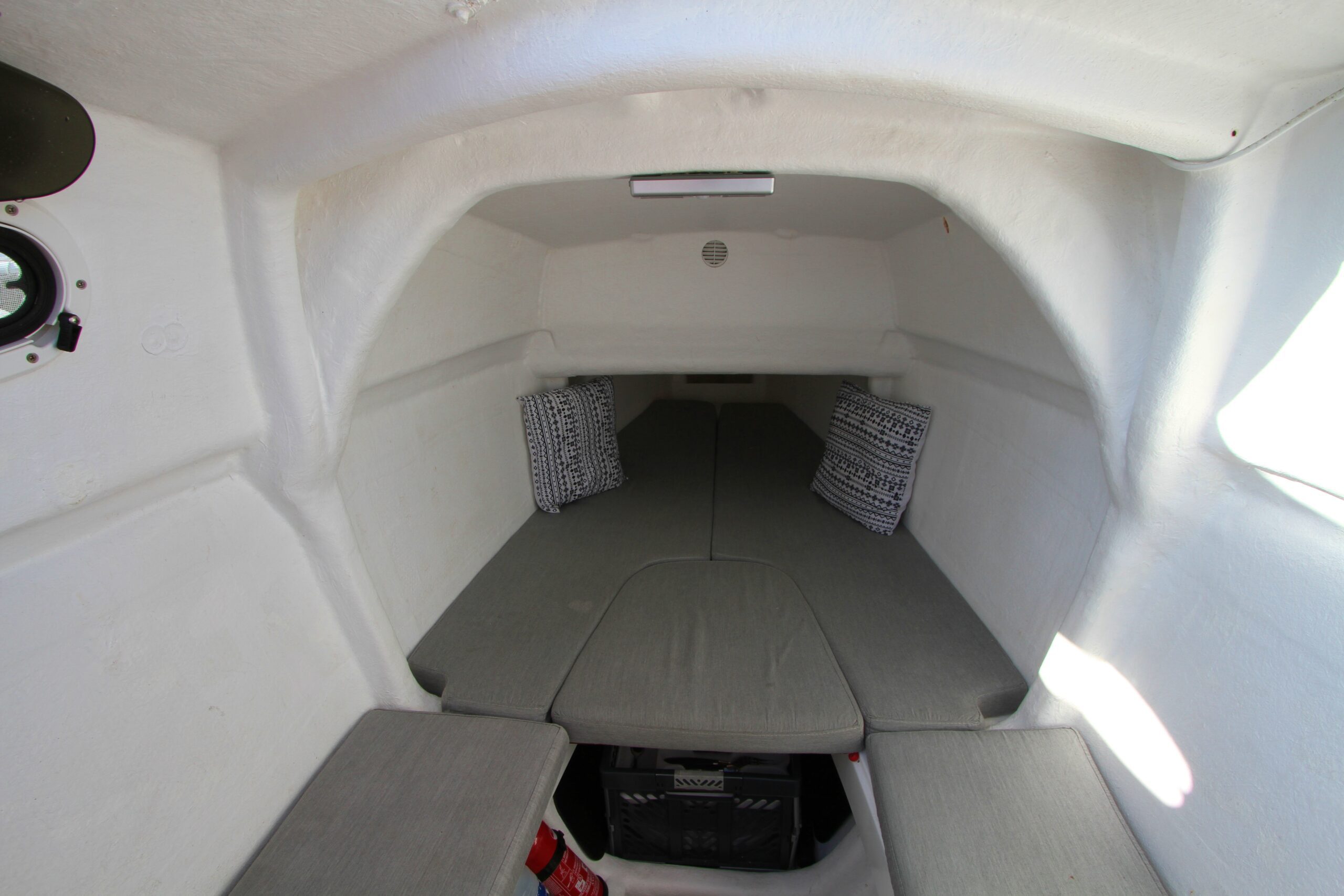 Myth 4: Trimarans are expensive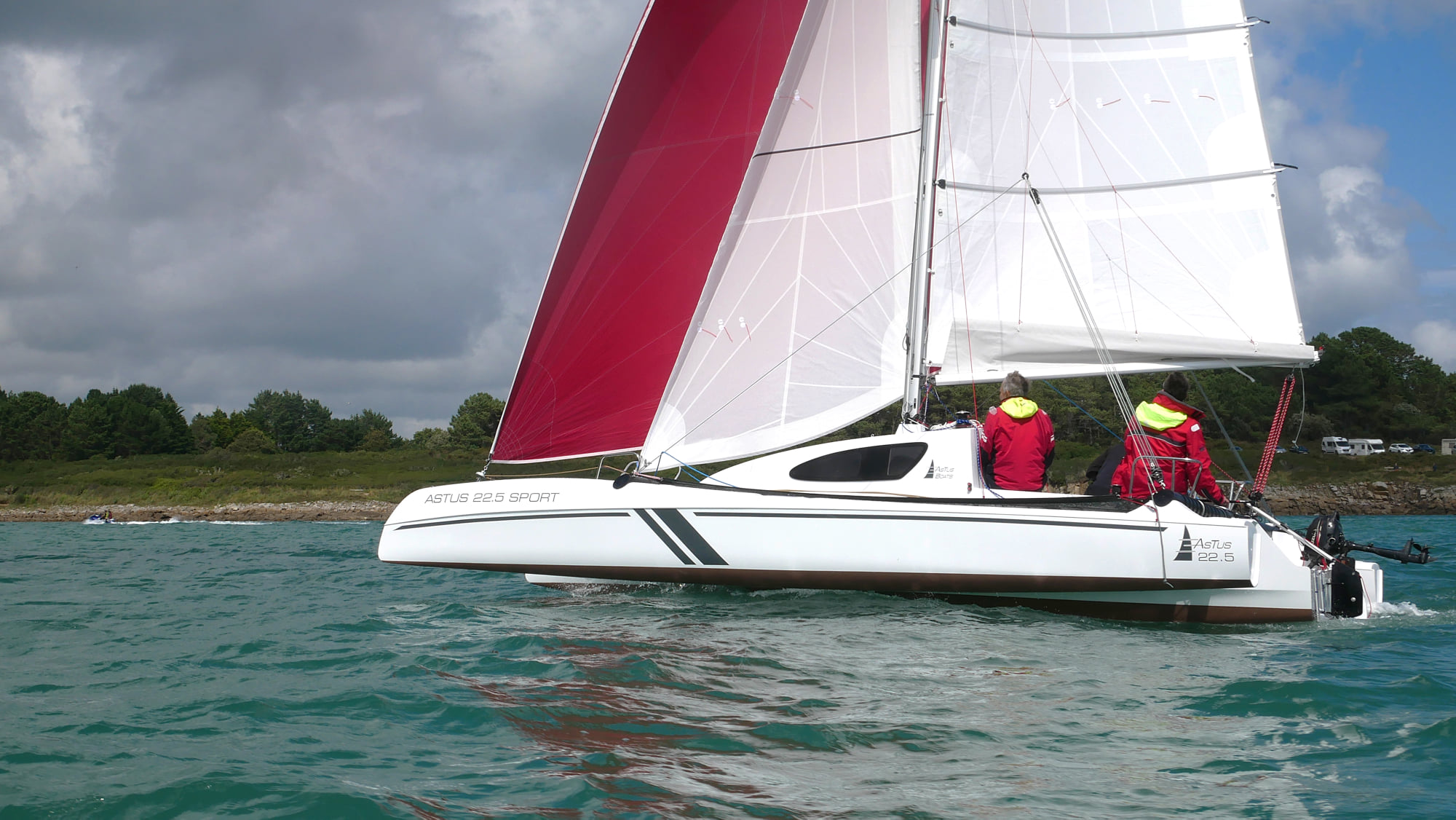 Naturally, manufacturing 3 hulls rather than one does cost more. If you've taken a look at some of the smaller boats in the Dragonfly or Farrier ranges you will have seen that prices can be a bit steep. That's why we teamed up with Astus Boats. They share our philosophy of making sailing affordable.
Through smart production techniques and realistic pricing Astus trimarans can be obtained for a similar cost to many monohulls of a similar size and well below the cost of other well known trimarans. For example, the latest Astus 22.5  coastal cruiser pictured here is available from only £38,000 ex VAT - around half the cost of a Farrier 22!
Compare the Astus 22.5 against another high performance trailer sailer of a similar size, Buckley's BTC-22 pictured below, priced from £34,950 ex VAT.  Both of these boats are made using similar resin infusion techniques, making them amongst the lightest and stiffest in their respective classes, they both have excellent spars, sails and deck gear and are aimed at the performance oriented sailer. Undoubtedly, both boats offer excellent value for money and there is not that much to choose between the monohull and the trimaran in the end price.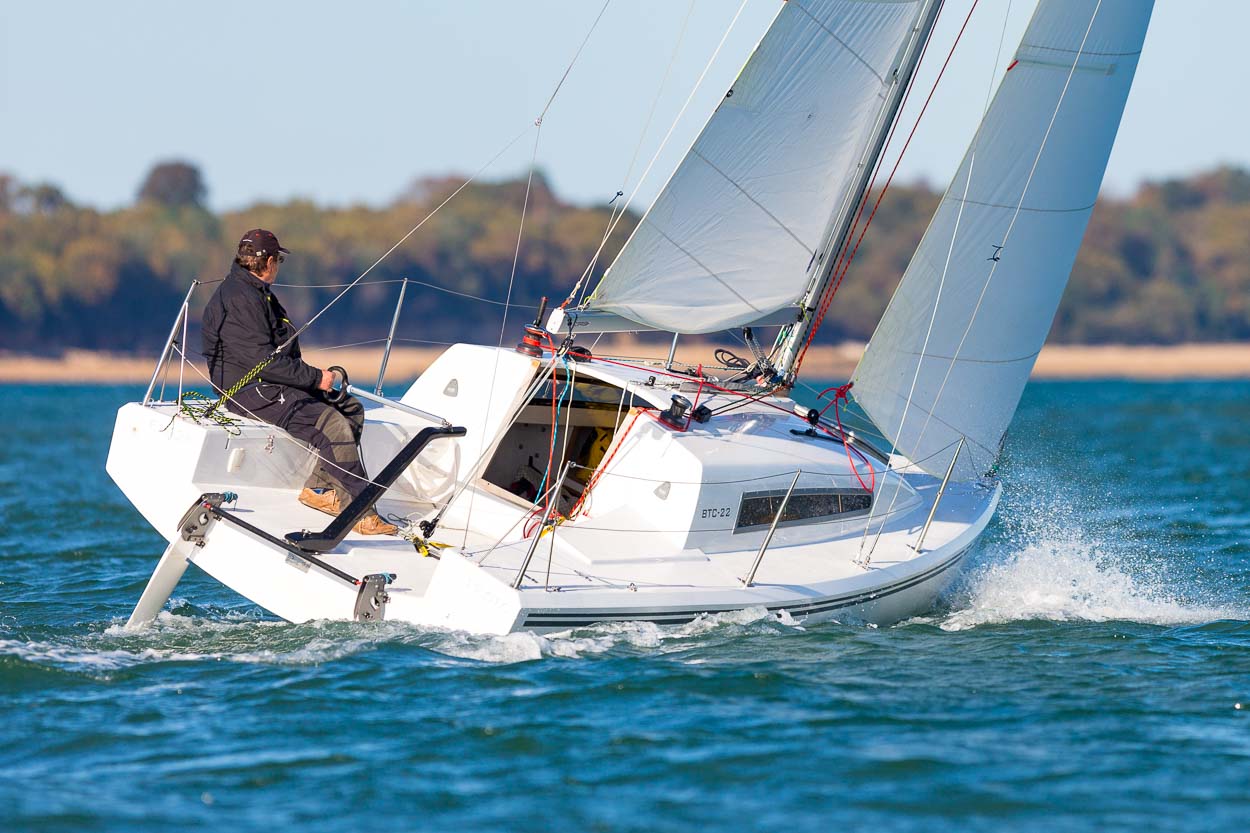 In Summary

We love the monohull trailer sailers which we sell through Boats on Wheels. They are our bread and butter and offer a great alternative to being trapped in expensive marina moorings and limited cruising locations.  So, if you prefer to stick to one hull rather than three that's fine by us. If, however, you want speed, exhilaration and a bigger cruising range on a boat that's lighter to tow then you ought to consider a trimaran. If you're undecided and you still have questions then give us a call.  For serious enquirers Boats on Wheels have an Astus 20.5 available for trial sailing right here in Hampshire on the South coast - the Astus 22.5 will be here in the Summer of 2022 . So come and try one out. We look forward to hearing from you soon.