What Makes a Good Trailer Sailer?
We're often asked: 'What would make a good trailer-sailer for me?' Our answer is nearly always: 'It depends on your individual requirements'. One person's ideal boat could be another's worst nightmare. So, in this guide we're going to try and list some more common requirements and some commonly available used trailer boats which might fit the bill. We're sticking to the trickier category of cabin trailer-sailers rather than open 'day sailers' which tend to be easier to tow as they are smaller and lighter.
1. I want a boat that's easy to launch and retrieve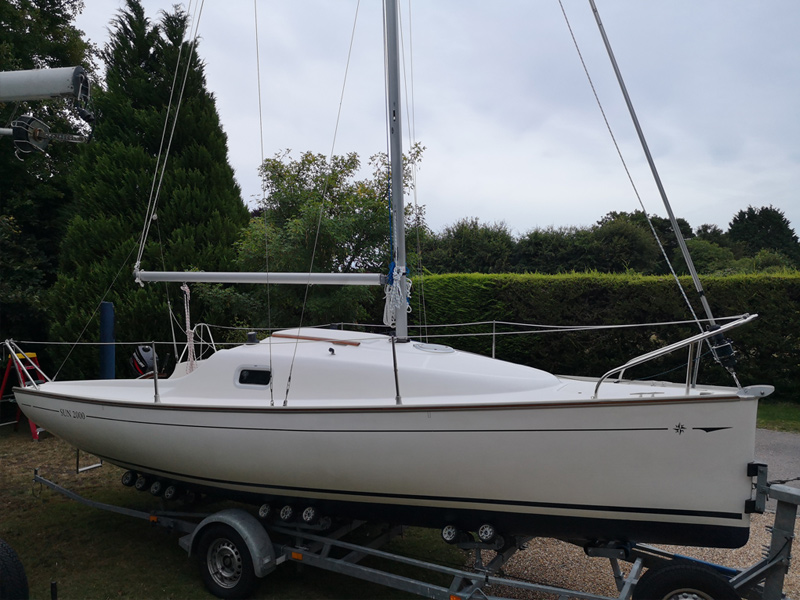 How easy it is to get a boat in and out of the water is probably the thing which separates the real 'trailer sailers' from merely 'trailerable boats'. The key factor is typically a boat's minimum draft. Any boat which has a keel which is fully-retractable, preferably right into the hull, has the advantage here. Another factor is how easy it is for the keel to be pulled or winched up and how easy it is to raise the rudder(s). There are many trailer sailers which excel in these aspects. Both the Sportina 680 and the Jeanneau Sun 2000, which we sell regularly, float in only around 30cm of water with their keels and rudders raised. It should be said that the Jeanneau is especially easy to recover since the swing keel is light to pull up without any winching required. If you have serious money to spend, and you want something even more performance orientated, you might also consider the Seascape 24 (now the Beneteau First 24) - again a flush fitting swing keel combined with a superlight boat so it floats in only 25cm of water!  Swing keels like those on the Jeanneau and the Seascape have the added advantage of raising themselves up when they hit underwater objects too. Boats with fixed or protruding keels are harder to get out of the water without getting your feet wet. Even shoal draft boats, with keels arranged in tandem like the ETAP 21i, need 70cm of water to float so you will be in well over your knees and the boat will sit higher on its trailer.
Finally, a word on mast raising and lowering. Most genuine trailer sailers come with a pivoting mast which can be lowered by 2 or 3 crew, using the genoa or spinnaker halyard to replace the forestay. Many of these little boats also have their own mast lowering kit which provides leverage when the mast moves past a 45 degree angle and, at the same time, controls the kind of lateral movement which could damage you mast foot and base. Using one of these kits is especially handy when launching or recovering single or short-handed. The best one we found came in the form of a stowable A-frame on a Swift 18 but there are plenty of good examples available for most of the boats mentioned here.
2. Which boats are easy to tow?
Before determining what boat is best for towing, your first consideration should be the vehicle you will be using to pull it. The vehicle you drive limits the legal maximum weight you are allowed to tow (the Gross Train Weight should be in your vehicle handbook or VIN plate of your car). Typically you're allowed to tow a trailer and boat with a combined weight of 85% of the kerb weight of your car. So, a VW Passat estate weighing at 1.5 Tonnes can tow a tad under 1.3 Tonnes. If the trailer weighs around 300kg then the boat should displace less than 1 Tonne. If you're at the upper end of the towing limit, you may want also to think about your car's ability to pull a heavy boat up a slippery slipway.  A heavy boat + trailer combination may necessitate a more dedicated towing vehicle – heavy 4x4s like the Landrover Discovery tend to rate well in the reviews.
If your vehicle has significant towing limits then the rule of thumb is to go smaller. Yet, a smaller boat is not always about cabin space compromise – taking a couple of popular older model boats as an example, a Swift 18 offers more internal accommodation and, at 690kg, weighs over 300kg less than a Cornish Shrimper 19 at over 1 Tonne. Sticking to older boats for the moment but going up in size, the unsinkable Etap 22i might fit the bill for those with limited towing capacity, coming in at under 1 Tonne. If you're very limited by towing weight you could also consider a  trailerable trimaran like the Astus 20.5 - these little boats have telescopic floats so fold up to a road legal 2.5m. The lightest (Resin Infusion) version of the Astus 20.5 only weighs 470kg - so light your trailer does not even need brakes!
If you do want to trailer sail a bigger boat with a modestly-sized towing vehicle, then there are several options available to you. Consider water-ballasted boats like the Macgregor 26C, the Catalina 250 or the Hunter Legend 240 or 260. These American trailer sailers are typically cavernous inside and around one third of their weight is water ballast, which can be jettisoned before trailing away.  Without the ballast the Macgregor weighs in at only 1.1 Tonnes – a 26 footer which can be towed by a reasonably sized family car!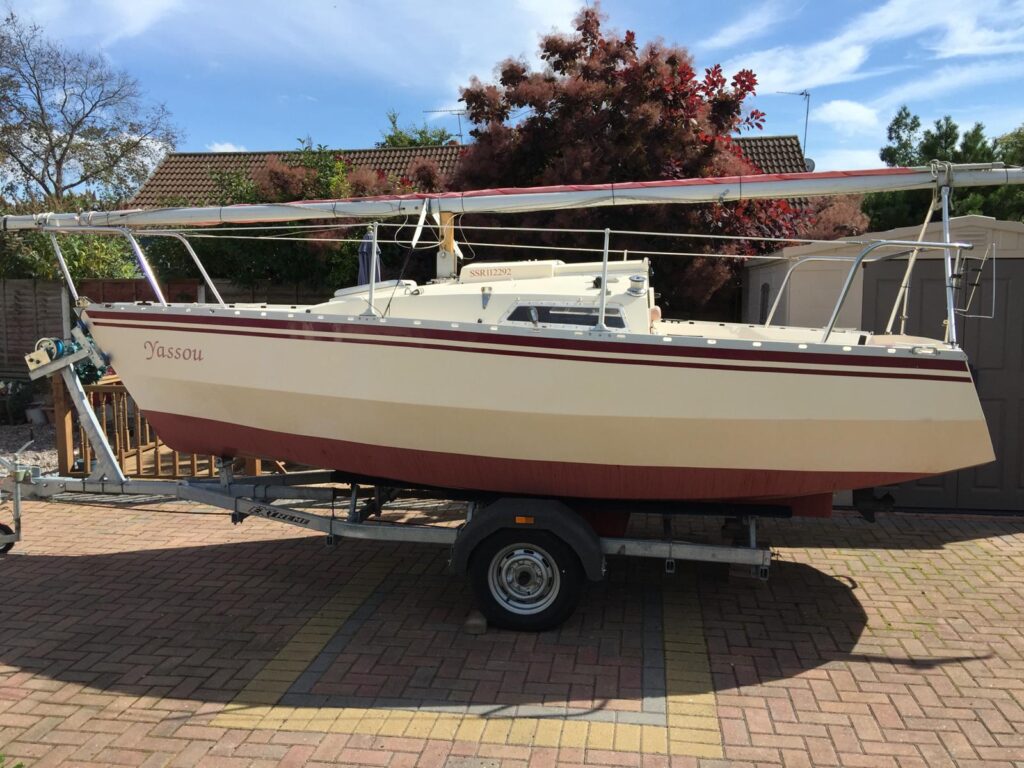 3. I want a trailer boat with great sailing characteristics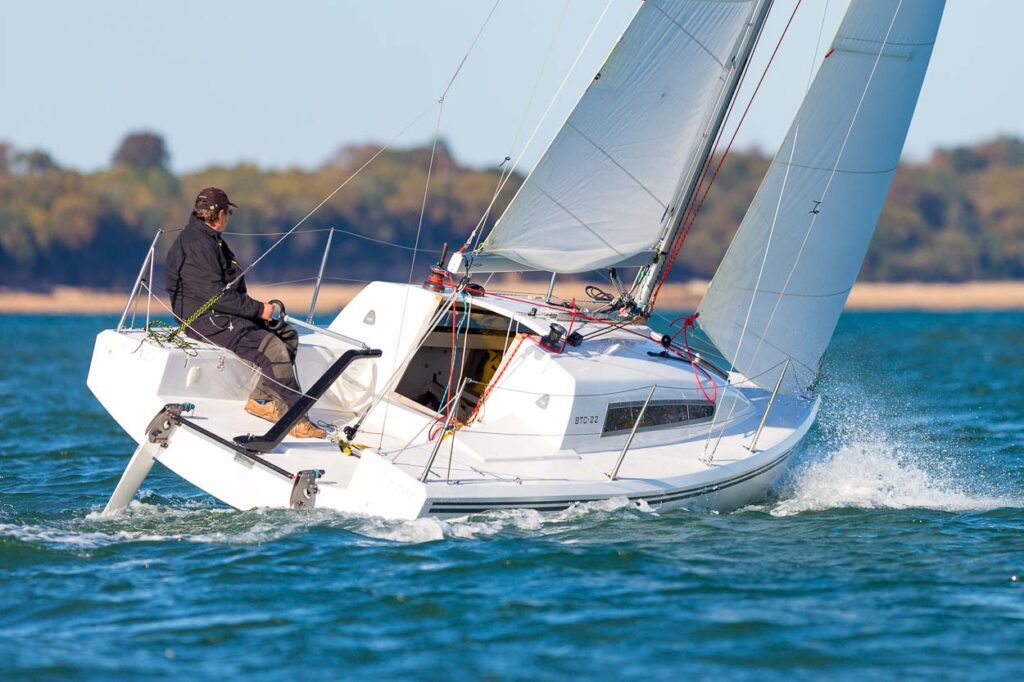 Traditional boats like the Cornish Shrimper aside, trailer sailers are, by their nature, lightweight boats that facilitate easy towing, launching and recovery. This means that many are typically restricted to inshore waters but they get going in a mere breath of wind. Polish-made boats, like the Viko 21 or the Sportina 680, mentioned before, are good examples of these ultralight racers, which are great fun but need early reefing.
Easily as important as displacement though, is the amount of ballast and where it is located. As opposed to fixed keel boats, which benefit from a heavy lump of metal several feet below the water line, many of these little boats carry at least some of their ballast within the hull.  To achieve the same level of 'stiffness', they would need to overcompensate with extra ballast – something which few manufacturers do. The Sportina 680 has a ballast to displacement ratio of less than 20 which could make it feel quite twitchy. Yet a similarly ultralight MacGregor 26S has a ballast to displacement ratio of over 40, making it theoretically 'stiffer' than most other trailer-sailers. Unfortunately, much of the Macgregor's water ballast sits inside the hull, thereby having less effect than a fin ballasted boat of the same draught so the Macgregor has to carry less sail with obvious implications for performance.
Perhaps the optimum sailing performance is achieved by out and out racers like the Seascape 24, mentioned before, but most of us cannot afford these speed machines. If you're looking to buy a more affordable trailer sailer with great sailing characteristics, the successful Beneteau First 210/211/21.7 series are good boats to consider. These models have a 350kg swing keel which sits proud of the hull when retracted but dropping to a massive 1.8m when down. This allows these boats to carry more sail and point higher than many counterparts. With twin rudders, the 210/211/21.7's maintain their grip even when well heeled. The drawback of the Bene is that this level of performance can only be achieved with extra minimum draught due to the nature of their stub keels – you will need at least 70cm of water to float in and the boats sit a little higher on their trailer than those with flush-fitting keels. If you can afford to spend a bit more, and you can find one, try also the more full-on Elan 210 which carries a serious amount of sail. Or, if buying new, you might try the BTC 22 from Buckley Yacht Design. Again both of the Elan and the Buckley come with twin rudders  to provide plenty of grip. Buckley offer both a leisure and a performance version of their 22, the latter coming with a bigger rig and a different keel to really get your adrenaline pumping!
If you want even more speed, and hence more range, then a trailerable trimaran like those in the Astus Boats range ought to be on your list.  Due to the nature of their design, with floats instead of  ballast, these sleek, featherlight boats leave monohulls for dead. The added benefit is that trimarans eliminate excessive heel so, despite the speed, even the more nervous crew member will find it a more relaxing experience.
4. Is it possible to get a trailer yacht with standing headroom?
Naturally, most genuine trailer sailers offer little more than crouching headroom, limited as they are by their overall dimensions. More headroom is often achieved at the expense of sailing performance or awkward movement around on deck. Full headroom in smaller boats also tends to come at the extreme edge of trailerability, often in the domain of swinging stub keel boats like the Beneteau First 25.7 or fixed keel yachts like the MG Spring 25. The MG Spring 25 is technically trailerable, as its draught is a reasonable 91cm due its clever winged keel, but launching and recovery is not really possible without a long strop between your vehicle and the trailer. In practice, owners of these trailerable boats tend to have them craned in and out of the water at the beginning and end of the season. They still reap some of the benefits of trailer sailing but not a 'pop the boat in the water for a day-sail' kind.
There are some alternatives though. Older boats like the Dehler 25 offer around 1.6m of headroom and the Feeling 720 a staggering 1.9m. Yet, due to retractable keels they draw very little water (the Dehler only 45cm; the Feeling 75cm). Many standing-headroom yachts are relatively heavy to tow though - of the examples above the Dehler comes out best at 1400kg (after shedding its water ballast) and the Beneteau 25.7 heaviest at 2.2 Tonnes, of which 30% is ballast. What you do get at this displacement level are sturdy, sea-going yachts which you could happily take across the channel.
If you don't mind sacrificing some upper end sailing characteristics then it's worth also considering the roomy Hunter Legend 260 and the Macgregor 26 range. By the nature of their design, sitting high up in the water, they present more windage and don't point as high as some of these other examples, but they offer plenty of headroom.
Arguably the 'best in class', genuine trailer sailer with decent headroom is the Parker 235. Built from 1994 by the doyen of British lift keel yachts, this little boat floats in only 30cm of water and weighs in at a tow friendly 1,380kg, yet offers 1.63cm of headroom. The quirky layout with a huge storage locker accessed forward of the heads in the forepeak is not for everyone but these little boats have something of a cult following.
Of the more contemporary boats, the Viko 21 is well worth taking a look at with a surprising amount of headroom down below for such a high performance 21 footer. At 2 Tonnes, the Sedna 26 is at the other end of the displacement range but offers plenty of space and headroom.
One way of coping with restricted headroom in smaller boats is by smart hatch design, which can provide valuable extra space. The Hunter Legend 240 does this with a clever hatch which slides right forward and hinges up, offering a large amount of space to move around in when standing. The addition of a narrow canvas pop-up then offers an extension to the cabin space when moored up. Performance-oriented trailer yachts like the Jeanneau Sun 2000 and the Beneteau First 211 also have hinged, rather than sliding, hatches, the Beneteau's being easier to handle and offering more light.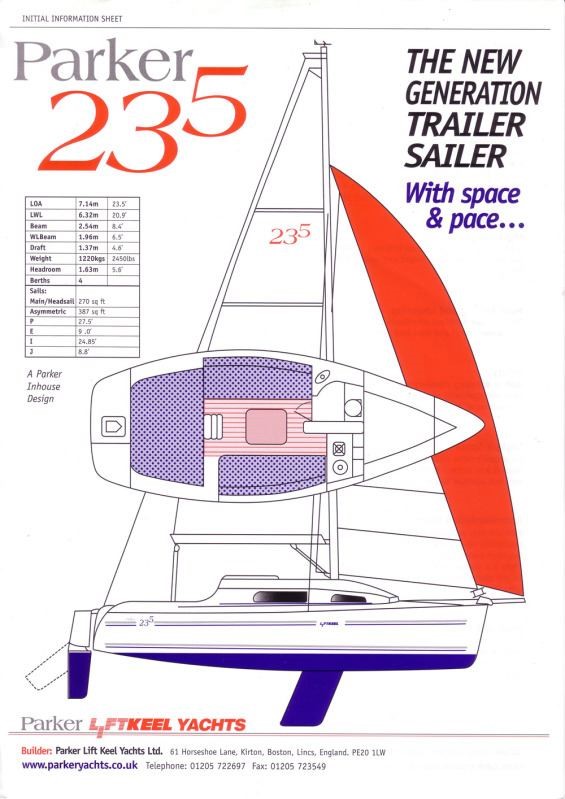 In Summary

Trailer sailing is about compromise, be it space, headroom, performance or towability. There are many trailerable boats to choose from, each with their own limitations. The key is to decide what is most import to you and what you are prepared to forego.  Hopefully the above examples provide you with some options to consider amongst countless trailer boats for sale on the market today. If you're still in doubt, please contact us and we will do our best to advise you.